Stocking Stuffers for Gifted Kids
Stocking stuffers can be so frustrating. It can be difficult to find quality gifts to include in the stockings hung by the fire with care, with such limited space and already over-stretched budgets. It's tempting to just buy a bag of candy and toss in some socks (which I would love for myself), but when you've got gifted kids they're not always so easily pleased. If a trinket doesn't hold their attention or challenge them, they'll toss it aside and you'll have wasted your money. Gifted kids don't just need novelty, they crave it. I'm sharing a handful of novel stocking stuffers that will not only delight your gifted kids, but put their brilliant brains to work!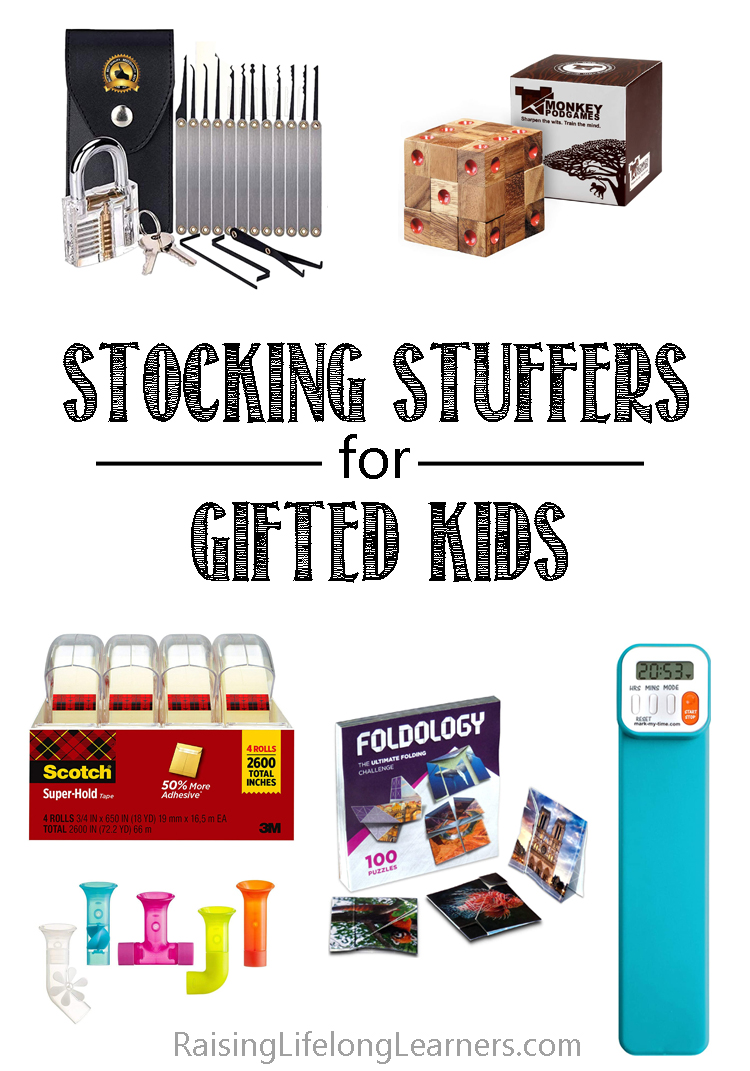 Stocking Stuffers to Inspire Creativity
I believe that some of the best toys are open-ended items that allow all the room possible for a kiddo to stretch their imagination. My kids don't exactly appreciate receiving an empty box as a gift, so I've found these tried-and-true stocking stuffers that allow for creative play with few instructions. If you've had a gifted child in your life for any amount of time, you've likely discovered the obsession and absolute passion that they have for tape. Seriously. They go through so much tape that I finally decided to lean into it and put rolls in their stockings, and every year they're thrilled to get it! My fidgety son loves these mini magnetic balls and will spend tons of quiet time making creations with them, just as all of my kids do with their Plus Plus neon set and the packages of Wikki Stix I keep in my purse. This More Origami pack is compact and packed with creative tasks. This set of dual tip markers is fantastic for creating art, practicing calligraphy, or anything else a creative kiddo might want to try with both brush and precision tips!
Stocking Stuffers to Stretch the Brain
My engineer-minded kiddos have most of these items and have gotten years of play out of them. These stocking stuffers are more than toys, they're challenges, games, or in the case of my son and the speed cubes, obsessions. Kanoodle is a fantastic item to keep for on the go entertainment, and one of the items I always suggest for gifted kiddo gifts. The Cat Stax and Dog Pile bundle is a fun twist on tanagrams and has the added bonus of being a game! This Domino Cube is novel enough to draw your kiddos in, and challenging enough to keep them hooked. A puzzle book like The Best Brain Teasers is always a great stocking stuffer, perfect to keep in the car or a backpack. Did you know that there is more than one kind of Rubik's cube? This set of 5 speed cubes is a good start to collecting all of the variations, each with their own unique algorithms. Another fun and compact challenge to is this Foldology pack, requiring kids to really wrinkle their brains and use creativity.
STEM Stocking Stuffers
These stocking stuffers come with a little more instruction, but they're easy and educational for kids. This balloon helicopter doubles as a fun party favor while teaching a bit of physics. Don't let the age rage on these bath pipes fool you, they're fun for all ages! Grab a few sets of them and see how much more fun bath time can become, or just use them to trick your kiddos into the bath! Tenzi is a fun gift that the whole family can enjoy, like these fraction and decimal dominoes. I can't tell you how much I would have loved one of these digital bookmarks when I was growing up, but it may be a good thing I didn't have a lock picking set, which is a surprisingly well-loved gift among the engineer-minded kiddos!
Don't fill those stocking with cheap knick knacks and filler candy this year, make them just as exciting as what waits beneath the tree. These stocking stuffers do double duty as both fun gifts and educational tools, so you'll feel just as good about giving them as your kids will about receiving them. Be sure to share some of your favorite stocking stuffers in the comments, and happy shopping!