Take a look at these cool top 25 gifts for nerds — for the geeky kid and adult in each of us. Nowadays, being a nerd is a lot of fun — much more so than being "normal." (Whatever that is.) I live with a few nerds myself, and they always fascinate me with their intelligence, love for learning, and personalities.
It's time to foster your inner nerd and pick up a few of these fascinating gifts.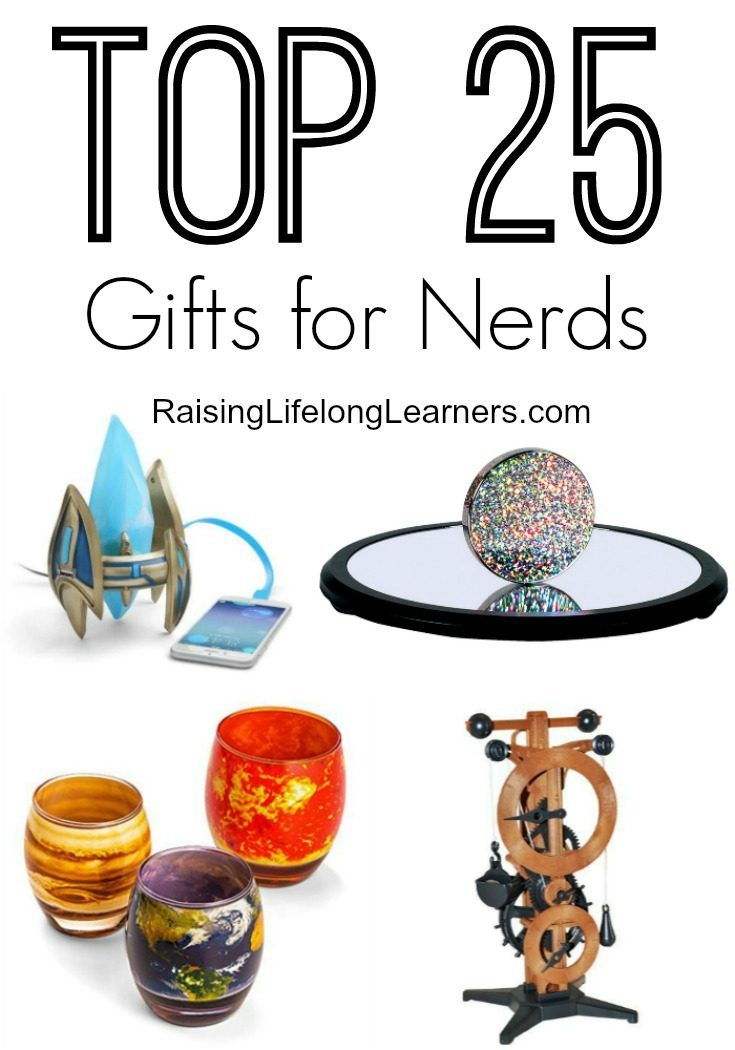 Do you have any nerds on your gift list this year? Why not pick them up some magnetic putty? Or maybe they would enjoy playing ice cube chess.
Pet Tornado — Tornadoes are fascinating. This is a great way to admire them.
Thermochromic Glux — Playing with putty is always fun. This putty in particular changes color as the temperature changes. You can also pick up Glow Glux putty, which lights up.
Infectious Disease Stress Ball — This isn't your average stress ball. Give it a squeeze and watch the goop pop out in a color you would not expect.
Planetary Glass Set — Give the gift of planets with this cool drinking glass set.
Build-On Brick Mug — Enjoy a hot beverage while playing with building blocks. What a great way to start the day.
Crazy Aaron's Thinking Putty — Magnetic putty is a ton of fun.
da Vinci Clock — No batteries are required. The weight of the pendulum powers this clock replica.
USB Pet Rock — A modern version of the classic pet.
Perplexus Epic — Solve the puzzle by getting the metal ball to the end of the maze. It's mind-boggling…
Doctor Who Knee High Tardis Socks — This is a great gift for Doctor Who fans.
Shock Ball Hot Potato Game — You will be taking a bit of a risk by playing this version of hot potato. The goal of this game you ask? Don't get shocked!
Melting Clock — Even though this clock is melting, it still keeps accurate time.
Pet Tornado
Thermochromic Glux
Infectious Disease Stress Ball
Planetary Glass Set
Build-On Brick Mug
Crazy Aaron's Thinking Putty
Academy da Vinci Clock
USB Pet Rock
Perplexus Epic
Doctor Who Knee Tardis Stripe Knee High Socks
Shocking Hot Potato Game
Table Melting Time Flow Desk Clock
&
Ice Cube Chess Set — Can you beat your opponent before the chess pieces start to melt?
Handmade Planet Necklace — For the love of stars… this necklace makes a great statement.
Airzooka — Create gusts of air that can be felt up to 20′ away.
Infinite Dungeon Corridor — This wall decor gives the illusion that a dungeon is just down the hall.
Back to the Future Flux Capacitor USB Car Charger — Keep those devices charged while you're on the go.
Fascinations AntWorks Illuminated Blue — Ant farms can be fascinating. This version uses a gel instead of dirt, which gives you a new perspective on how incredible these little creatures can be.
Cooking for Geeks Cookbook — Learn just what happens to food when it cooks.
R2D2 Desk Lamp — Light up any nerd's life with this adorable R2D2 lamp.
Legendary 8-Bit Light-Up Jewelry Treasure Chest — Keep treasures safe with this jewelry box that lights up when opened.
Toysmith Euler's Disk — Spin the disk to create an incredible illusion along with sound.
Portal Turret Motion Activated Desk Defender — This is the perfect gift for Portal fans.
USB Desktop Aquarium — Perfect for small spaces. It also comes with a clock and light.
Starcraft Protoss Pylon USB Charger — Charge devices in style with this light up charger.
Ice Speed Chess Set
Handmade Full Moon Necklace
Airzooka Toy
Infinite Dungeon Corridor
Flux Capacitor USB Car Charger
Live Blue Gel Ant Habitat
Cooking for Geeks
pp Light
Legendary 8-Bit Light-Up Jewelry Chest
Toysmith Euler's Disk
Portal 2 Sentry Turret Desk Defender
Desktop Aquarium
Starcraft Protoss Pylon UBS Charger
Galaxy Wrapping Paper
&
As you can see, there is a huge variety of gifts to choose from. Any nerd will be beyond excited to receive these gifts. You can even wrap them up in some Galaxy Wrapping Paper or other nerdy wrapping.
Do you have any nerd gift ideas to add to my list? Share them with all of us in the comments.
Looking for more great gift guides? Check these out:
 Family Game Night Guide
 Top 25 Board Games
 Gifts for Teen Boys
 Awesome Subscription Boxes for Smart Kids
 Gifts for Children with Anxiety
 Gifts for Gifted Toddlers
 Geeky Fifts for Geeky Kids
 Gifts for Gifted Preschoolers
&