Traveling with your kids can be a challenge, especially if they struggle with issues like anxiety or have special needs, but it's so worth it. And, as a homeschooling family, we know that the world is truly our classroom. We can learn anywhere – and have fun doing it.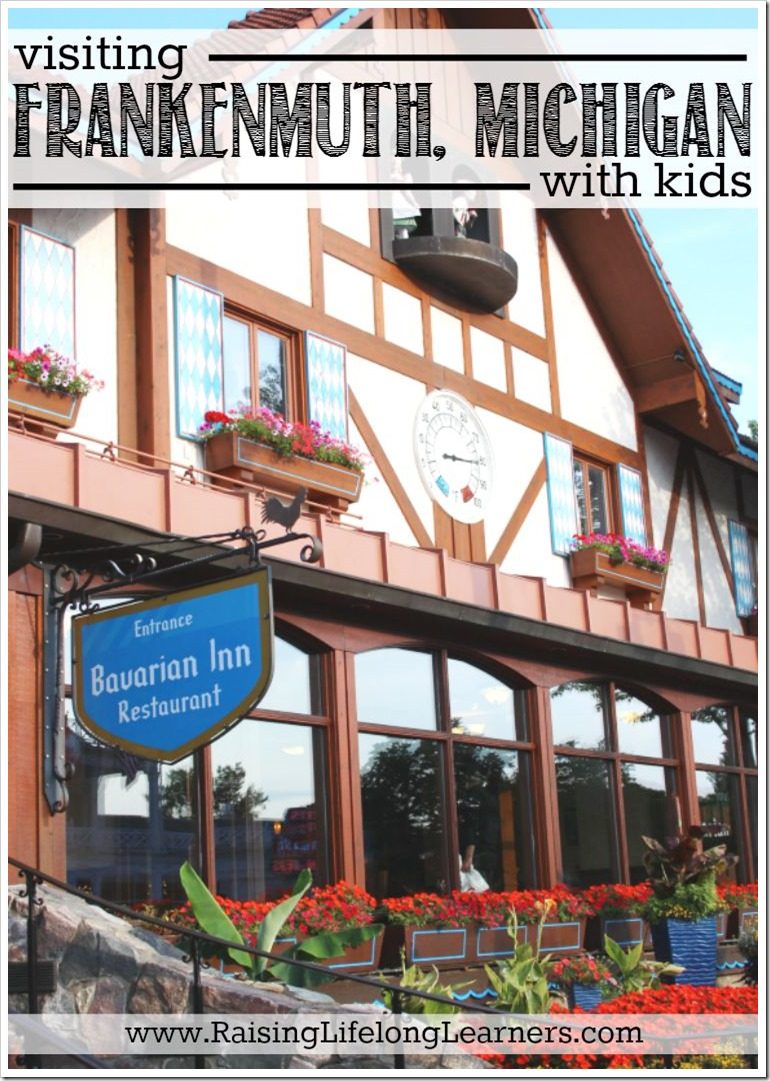 Take our recent trip to the little Bavarian village of Frankenmuth, Michigan. We were invited to visit, check out the Bavarian Inn Lodge and their restaurant's famous chicken dinner, and taste a bit of the local fun. It was such a wonderful weekend, and one we'll be making a family tradition in the years to come.
We arrived and found our way back to the lodge and a wonderfully homey family suite. With four kids, we always look for accommodations that can fit us all comfortably. This room fit that requirement beautifully, and it was lovely…more like a favorite aunt's family and guest rooms than a hotel.
There were two full beds, a TV, mini-refrigerator, and reading area in the main room. Another room – with a closing door – housed a table and chairs, TV, arm chairs, and a sofa bed. So much room! We loved it.
The kids loved sitting out on the balcony together.
Since there are so many things to check out at the lodge, you might not want to leave. You can check out the pool area with waterslides, three pools, whirlpools, and more. There are two different arcades and a mini-golf course – my two year old may have run around, swinging his club like a sword… maybe.
If you visit Frankenmuth, stay at The Bavarian Inn Lodge and make time to hang out in the building with the kids and enjoy the offerings.
And make sure you put in a reservation for a famous chicken dinner at The Bavarian Inn Restaurant. Family style – and perfect, you'll love the crispy chicken, sides, and dessert (and a frosty German beer is a perfect companion). The kids especially loved their dish of ice cream with a little plastic German boy or girl stuck in it.
The amazing accordion player was such a hit with the kids. He took requests – and actually knocked out the Star Wars theme song for Trevor and the National Anthem for Logan, who was wearing a USA shirt. Such a fun family dinner!
And pick up your own copy of Dorothy Zehnder's new cookbook so you can recreate these delicious recipes at home – we're so thankful for our copy!
To get a feel for the village, we walked around, shopping at the quaint castle shops beneath The Bavarian Inn Restaurant, watching taffy pulling, eating caramel corn, and enjoying the beautiful flowers.
We were only able to stay for a short time for this visit, but plan to go back and try a horse-drawn carriage ride, watch fudge made, take a river boat ride, and more. There is so much to do while visiting Frankenmuth Michigan.
Check out the newly designed website and blog to plan your own trip – and make sure you leave lots of time to explore. You're going to love this place!