I'm going to admit right off the bat here that I am not above bribery and striking deals when it comes to getting my gifted children to get their work done. Raising gifted kids can be exhausting when you factor in all the negotiations and creative avoidance techniques they come up with.
And new technology is a great motivator.
When I was offered the chance to try out the new AtmosFlare 3D Pen and see how it worked for creatively gifted kiddos, I jumped on it. I was provided with a 3D pen and compensated for the time taken to facilitate this post, but the opinions and thoughts are mine. And, like always, I don't share anything we wouldn't buy and use ourselves. Your creative kids are going to love this product.
There is a common misconception that gifted children are eager to please, and always willing to do their school work. It's just not always true. Gifted kids are willing to learn, but often only on their own terms. I speak to parents around the world who are sharing the journey of raising gifted kids, and getting their smart kids motivated and inspired to learn is a commonly shared difficulty.
Novelty helps. And cool gadgets like a 3D pen are definitely novel.
We often use the old standby, "if this, then that" to motivate in our house. "If you get your must-do assignments done within a reasonable (as determined by me) time frame, then you can play Minecraft (or play outside, build LEGO, play a game, watch a show, etc.)."
For my super creative and artsy, and slightly geeky eight year old, the newest is "if you finish your work, then you can draw with the 3D pen."
It works.
Motivation is one of those tricky things that all parents struggle with. Parents of gifted kids seem to struggle with it on a more recurring basis because of the nature of giftedness. Our outliers are always searching for new and novel things to do.
A gadget like the AtmosFlare 3D Drawing Pen fits that bill. Just take a look at how fun it is:
The AtmosFlare 3D Drawing Pen comes with everything you need to use it right away. There's even a battery in the box. It has a slight learning curve, though, so you'll need to help your kiddo check his or her perfectionism at the door if you decide to go with one. And, because of that learning curve, the gel ink that is included in your purchase will go pretty quickly. If you have curious and artsy kids, you might need to grab a few extra ink cartridges with your initial purchase.
Included With the AtmosFlare 3D Pen
Pen
Battery
Extra drawing tips
Two ink cartridges (red and blue)
How the AtmosFlare 3D Drawing Pen Works
Once you install the battery and pop an ink cartridge in, you're ready to roll. The ink is a gel made up of a light-responsive polymer that is cured and hardened by the UV light that shines from the tip of the pen. It's sticky when not fully cured, so you may need to shine the light on your design for a few extra minutes once you're done creating.
The best way to begin is to squeeze a little bit of the gel onto a dark surface (we've used paper, wax paper, and finger paint trays), turn the light on once you've begun drawing, and then keep going. Use a dark surface because, if the light reflects back up to the pen as the ink is coming out, it will cured too quickly and clog the tip of the pen. You need to be careful, too, because it can get sticky. It washes up, and if you cure it well it's not a problem, but be aware.
I like this version of the 3D pen because it's affordable. On the AtmosFlare website, you can get a pen with everything you need for under $30. Refill cartridges are under $6 and come in 12 different colors. If you need it now, you can forgo the shipping and head to Best Buy or Toys R Us to grab one and get your kiddo started. The refills are only available on the AtmosFlare site right now, though.
The Value of Novelty
The AtmosFlare 3D Drawing Pen is the novel gadget I'm using right now to motivate my creatively gifted kiddo to knock out the work and chores she dislikes, but still needs to do, but it's not the only option. You know your child best. What motivates him? Tap into your child's interests and find a way novel way to use that to encourage him to get his work done for the day.
Using novel gadgets, experiences, or methods of doing things works because it triggers excitement and pleasure in the brain. Kids want to get to that happy place, so, usually, they'll get through the stuff they don't enjoy as much to spend time on something they love.
I know that I work in much the same way.
If you think your creative guy or gal would like one of these cool 3D Drawing Pens from AtmosFlare, enter to win one below. AtmosFlare is giving away 30 pens to 30 lucky winners.
If you're on Instagram, you can enter the AtmosFlare Photo Challenge there, too. Three lucky winners will win on Instagram.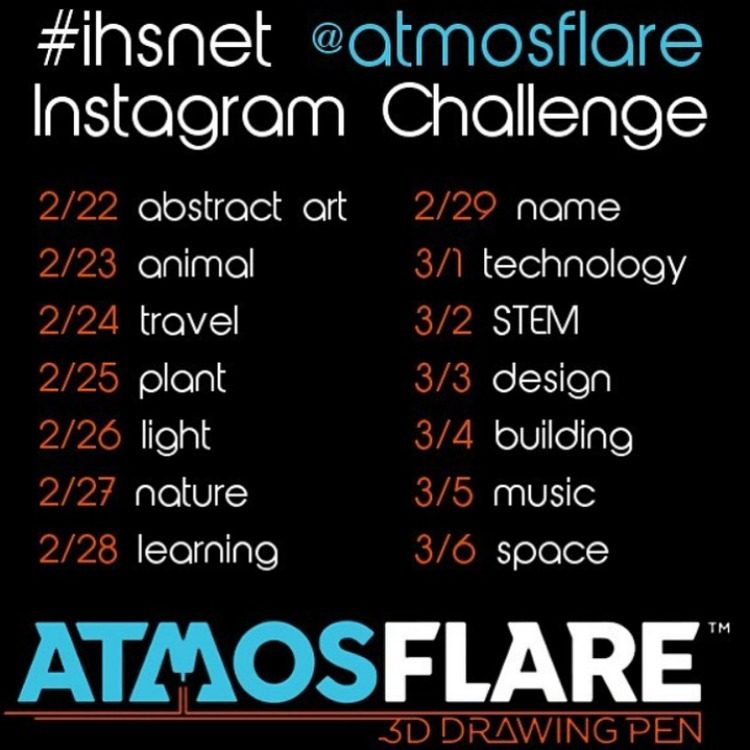 AtmosFlare Instagram Challenge