Valentine's Day is almost here… do you have fun things planned for your little ones? I love surprising mine with fun snacks and themed lunches, and this yummy strawberry white chocolate milkshake recipe is the perfect frosty treat for a day devoted to love.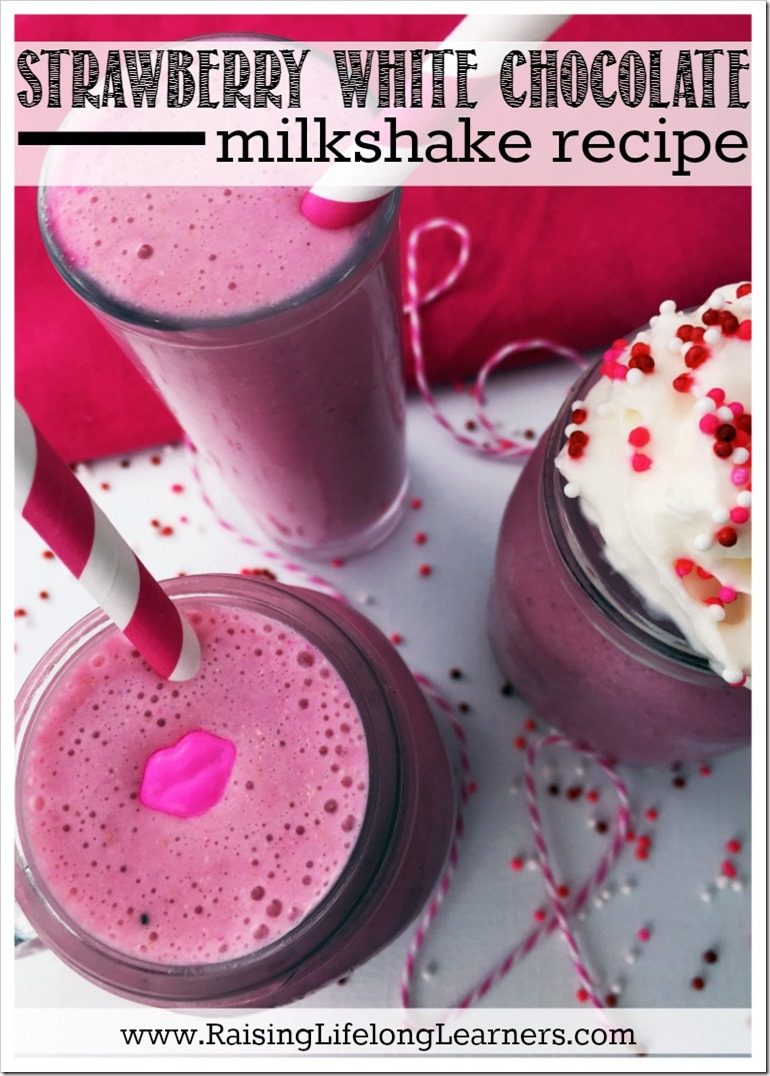 And your kiddos will love this.
Strawberry White Chocolate Milkshake Recipe
Seriously, what kiddo doesn't like strawberries and chocolate? This milkshake recipe will become a new favorite. It's easy and delicious.
Ingredients
1 cup Frozen Strawberries
1½ cups Vanilla Bean Ice Cream
¼ cup Half & Half
¼ cup White Chocolate Chips
1 tbsp. Red, Pink, & White Sprinkles
Instructions
Add frozen strawberries to blender (I recommend the NutriBullet or Vitamix). Blend for approximately 30 seconds.
Add vanilla bean ice cream. Blend for 15 seconds.
Add half & half. Blend for 5-10 seconds, or until you reach your desired milkshake consistency.
Add white chocolate chips. Blend for 10 seconds.
Add sprinkles. Blend for 5 seconds.
Pour strawberry white chocolate chip milkshake into 4 small milkshake glasses. Garnish with extra sprinkles (or optional whipped cream).
Serve immediately with paper straws.
Enjoy with your favorite little Valentine.
You might like:

Colleen is an explorer, tinkerer, educator, writer, creator, and a passionate advocate for the needs of gifted and twice-exceptional children. She has a B.S. in elementary education, a M.Ed. in gifted studies, is a sought-after national speaker and educational consultant, and is the founder of the popular blog and podcast Raising Lifelong Learners, as well as Raising Poppies, a community of support for parents of gifted children. She lives in northeast Ohio with her four bright and quirky kiddos, patient husband, and ever-changing collection of small reptiles, mammals, and insects.
Latest posts by Colleen Kessler