Prepare Ahead Breakfast for Easy Mornings
Having to get kids to various camps and classes make for crazy-busy mornings, so I was thrilled to complete this compensated opportunity from Collective Bias, Inc. and its advertiser. All opinions are my own – I love sharing about great products that make life easier like #QuakerRealMedleys #CollectiveBias
I've shared before that I'm not very good in the morning. My kids know that they shouldn't really talk to me unless I've had a cup of coffee and a shower. I'm pretty incapable of making conversation before then.
With the kids getting bigger, we're entering a season of busy-busy-busy and always being on the go. Seriously, how could it be otherwise? There are four kids with very different needs and interests in this homeschooling household.
That's why I need an arsenal of go-to ideas to make breakfast for easy mornings. We use our slow cooker overnight on a regular basis for things like this cinnamon apple oatmeal, but I needed more ideas. When I heard about the new Quaker® Real Medleys® Yogurt Cups shelf-stable granola and yogurt blends, I was intrigued… but not sure of the idea, so I headed to the demo I heard would be at Walmart to check them out. (Make sure you download the Blippar app from your Android or Apple store so you can scan your package and receive information and tutorials about Quaker Real Medleys Yogurt Cups.) You can find demos coming up at a Walmart near you, too.
The sweet Sharon (who did not want to be photographed, but happily chatted with Trevor and me for ages), told me all about these yummy breakfast treats. By pouring ice-cold milk into the cup, stirring, and letting it soak in for two minutes, you get a delicious blend of granola, fruit, nuts, and yogurt. There's been nothing like this before on my breakfast table – Crunchy. Cool. Yum. You can find them in the cold cereal aisle.
Not only are Quaker Real Medleys delicious, they're satisfying, too.
Since it's Molly's turn for camp this week, and I have to have her there (a half an hour away) by 8:20am every morning, I needed something like this to have ready for her, while leaving something handy for the babysitter to feed the little ones when they woke up. It's one of the things I love most about shopping at places like Walmart – I can get everything I need for convenient breakfasts, while shopping for things like the paint smock, folders, and bag Molly needed for camp. A busy mom-of-many's dream come true.
Armed with whole wheat flour, peanut butter, milk, Quaker Real Medleys, and fruit, I set out to prepare a great breakfast for easy mornings before camp. The kids love peanut butter, and I love the protein that it adds to breakfast, so I include it when I can.
Enter our family's favorite muffin recipe:
Whole Wheat Peanut Butter Chocolate Chip Muffins
You'll Need:
2 1/4 cup whole wheat flour
1 tsp baking soda
1 tsp baking powder
1/2 tsp salt
4 tbsp unsalted butter (super soft or melted)
1/2 cup brown sugar
3/4 cup peanut butter (I like crunchy, but the kids like creamy)
1 1/2 tsp vanilla extract
2 large eggs
3/4 cup milk
1 cup chocolate chips (we like mini chocolate chips)
Preheat the oven to 375-degrees. Sift the dry ingredients together in a large bowl. Wisk the wet ingredients together in another bowl with the brown sugar. Pour the wet ingredients into the dry ingredients and mix until well-combined. Add the chocolate chips. Scoop into muffin pans and bake 20-25 minutes.
These muffins are dense because they're made with whole wheat flour, but we love the added nuttiness of the wheat, along with the added nutrients that help get us through busy days.
And, since I like mornings to go smoothly, I mix up the dry ingredients for these muffins the night before, and set out any shelf-stable wet ingredients like the vanilla, chocolate, and sugar. Everything else is pre-measured on an easy-to-reach shelf in the fridge, ready to grab and combine.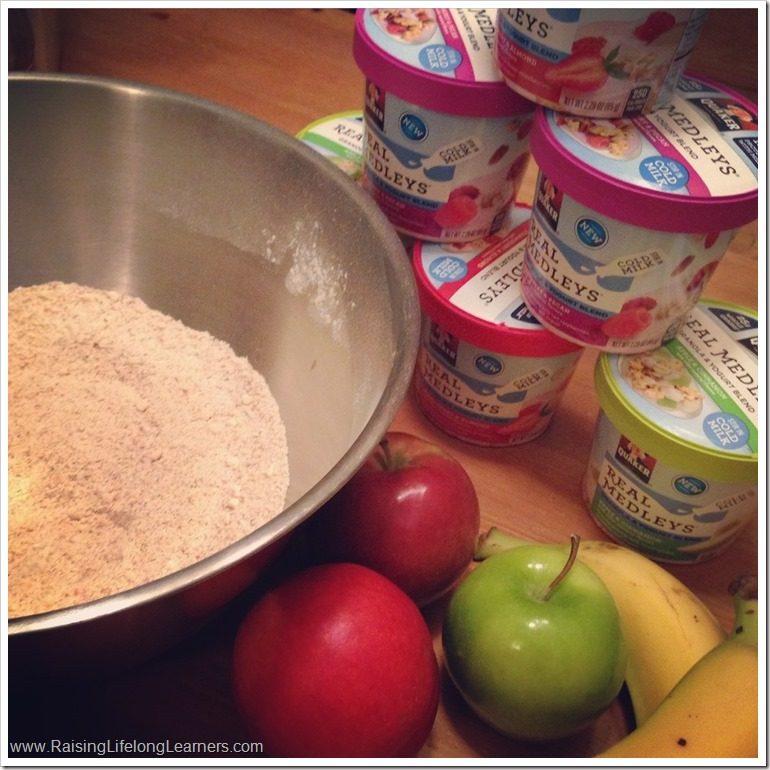 It takes a few minutes, and they bake while I shower.
Having easy recipes like these whole wheat peanut butter chocolate muffins, fresh fruit, and handy cups like Quaker Real Medleys at the ready, take mornings from busy and chaotic to easy.
It's your turn – what are some of your best tips for a prepare ahead breakfast for easy mornings? Share in the comments – this NON-morning person is always looking for help and suggestions.