Great Homeschool Conventions and Great Homeschool Speakers
Great Homeschool Conventions always promise to put on quality events. They listen to homeschool families and are always incredibly responsive to the ever-changing needs of the community, making sure to truly have something for everyone. If you check out their offerings, you'll see that they design tracks intended to speak to all kinds of families – special needs and gifted tracks, those following the Charlotte Mason method, classical homeschoolers, and even workshops intended just to encourage moms. There are so many speakers and workshops covering so many topics, from technology to tutoring, that it can be a little overwhelming when you first start planning your GHC weekend. I thought I'd help you narrow down your plans by sharing a little bit about some of my favorite speakers!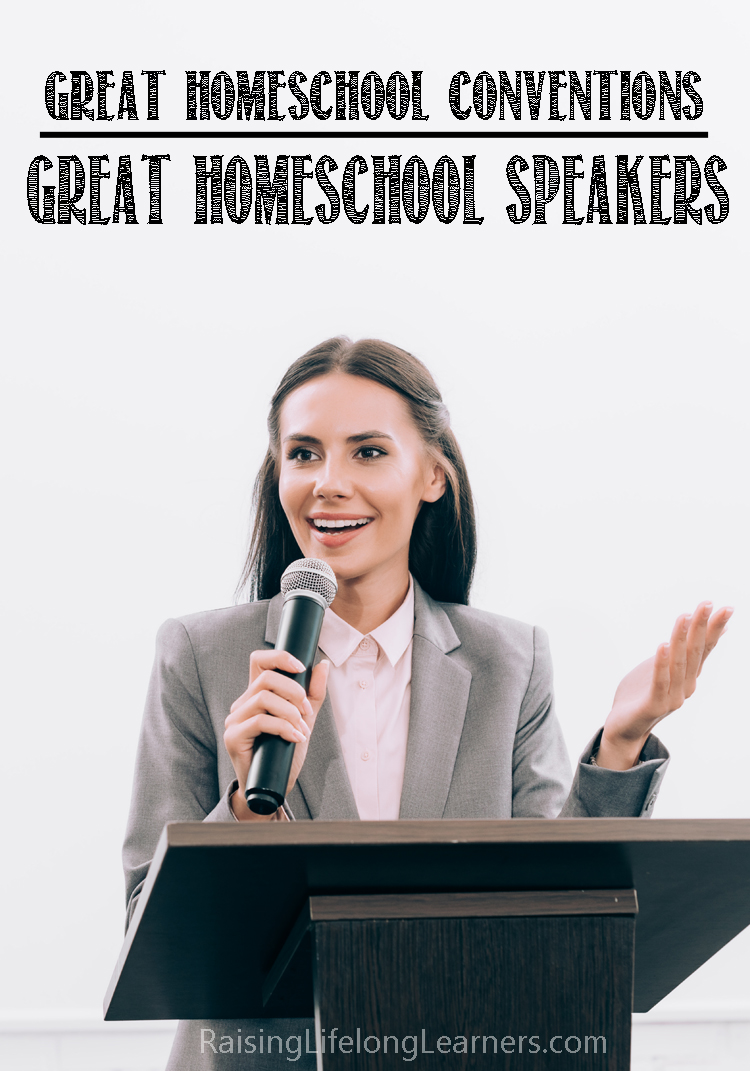 The first step to planning your weekend at Great Homeschool Conventions will be to get registered at the location nearest you. Find the event happening closest to home, or maybe plan a mini trip away with a fellow homeschooling mama friend! The hotels fill up quickly, so you'll want to start registering and reserving now. Make sure you use the code RLLGHC to get $5 off your registration fee, too!
Now that you're all set to attend, let me tell you about a few speakers you won't want to miss.
Making her very first appearance as a featured speaker at the Great Homeschool Conventions is my good friend, Shawna Wingert. You probably recognize Shawna's name as she's been a guest on my podcast before, and I frequently share resources and posts from her site, Different By Design Learning. She is a former special education teacher and current homeschooling mom to two boys with special and different needs. She is a fabulous author, wonderful resource, and a fantastic friend. Anyone who is parenting or homeschooling twice-exceptional children with different and special needs, including autism, ADHD, dyslexia, and many other learning differences can benefit from sitting in on all of Shawna's workshops. She is an invaluable resource that GHC has brought in to serve homeschooling families, and I am so excited to have her with us this year!
If you've been a reader of mine for any length of time, you probably know about my absolute adoration for Mr. D Math. Math is one of those subjects that so many homeschooling parents are scared of, and Dennis DiNoia is not just a good friend and a fun speaker, he is an encourager. The way Mr. D approaches math has been a game-changer for Trevor, and he is especially appealing to gifted and differently-wired kiddos. If you have math questions, a gifted child, or a kiddo who just loves math, then you will not want to miss out on hearing Dennis speak!
Related: Attending a Homeschool Convention for Your Differently-Wired Kiddo , Why You Should Keep Attending Homeschool Conventions
I couldn't discuss speakers at Great Homeschool Conventions without mentioning Michael Clay Thompson! For years he has been one of the leading names in gifted homeschooling, and his language arts curriculum has been known as a favorite.
If you're attending the Ohio GHC event, you will NOT want to miss hearing Dr. Inge Auerbacher speak. A Holocaust survivor who has even addressed the UN, her experiences and insights will move and inspire you.
Another favorite friend of mine featured at Great Homeschool Conventions is S.D. Smith. My kids love his Green Ember series, and he is always a lively and encouraging speaker. As an extra bonus, the final Green Ember book will be available for purchase at all of his GHC appearances, ahead of its worldwide release date! You don't want to miss this!
And of course, no rundown of speakers at Great Homeschool Conventions would be complete without my dear friends (and Real Mom Tour buddies!), Sarah Mackenzie and Pam Barnhill. Sarah and Pam have both been guests on my podcast, and both offer incredible insight into homeschooling.
Sarah has the most encouraging soul and words for all homeschooling families, helping parents to build connections and simplify their routines while growing a lifelong love of reading and literature.
Pam is, of course, the morning time and consistency guru here to whip your homeschool into efficient shape and help you cut what's not necessary, while adding in truth and beauty to your mornings. Both of these wonderful women are fountains of wisdom, humor, and practical help, and no GHC event would be complete without a session with them!
There are dozens more speakers to go listen to, learn from, and be encouraged by. There's so much to learn, see, and check out that I couldn't possibly cover it all in one post, so make sure you head over to Great Homeschooling Conventions and see for yourself! Remember to use the code RLLGHC for $5 off your registration, and be sure to let me know in the comments who you're most excited to hear speak this year!