Gift Ideas for Young Geology Lovers and Rockhounds
First, we dove into one incredible Homeschool Geology Study Unit…
Then we discovered some Geology Books that we could simply not live without…
Now, I'm excited to bring you one more way to get kids fired up about geology — these are the best gift ideas for young geology lovers!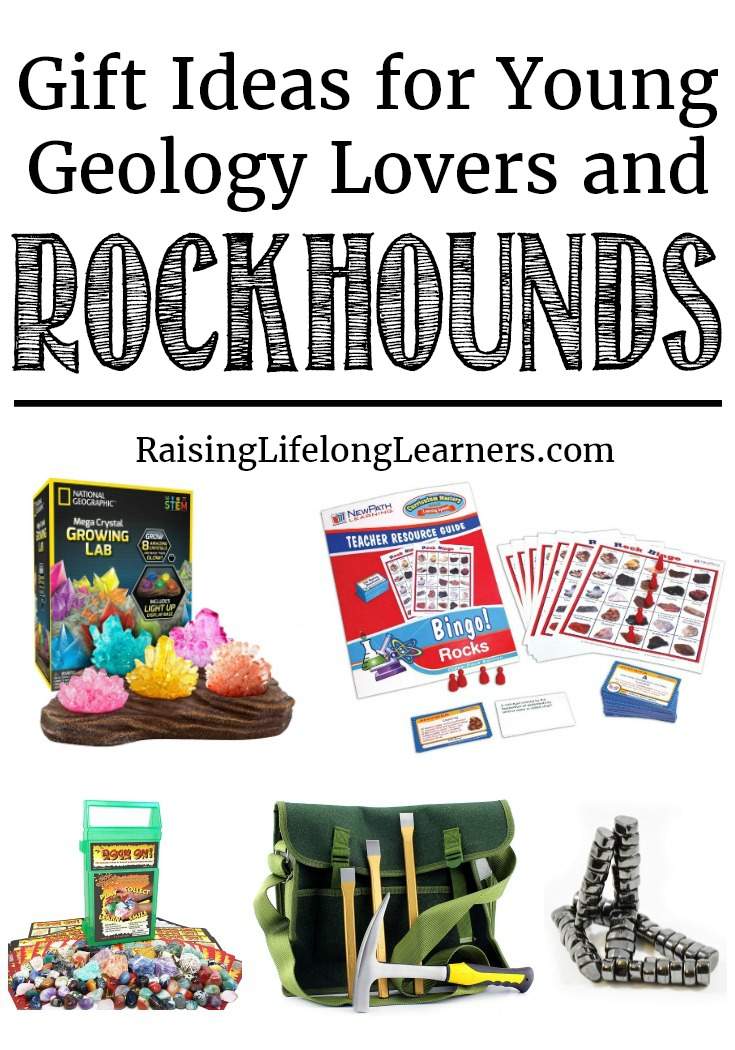 You will find a bit of everything including gemstones, rock painting kits, fossils, and even a pet rock.
Gift Ideas for Young Geology Lovers and Rockhounds
Finding the perfect gift for the geology lover on your list is important because you want to keep that spark of love growing for all things rocks! I think you will be able to find that perfect gift amongst these ideas.
Geology Games, Geology Kits, and Rockhounding Gift Ideas
Rock Bingo Game: Turn Bingo into a-rockin' good time with this geology version. It comes with a teacher's resource guide to help find answers quickly to questions players may have.
Rock On! Geology Game: Turn the love of rockhounding into a game! It includes a collection of rocks and gems as well as a few different games to play. Great way to learn while having fun!
National Geographic Mega Gemstone Mine Kit: If your rock hound loves gems, gift them this mining kit that allows them to dig up 15 gems on their own!
Rockhound Kit: Having the right tools for the job is a must! This set has everything a rockhound would need to explore the wonderful world of geology!
Dino Pac: Give the gift of a real-life dinosaur fossil bone, egg, and dung! Young geology loves will sure get a kick out of this gift!
Rock Tumbler: Turn those geology finds into gemstones with the new and improved rock tumbler from Nat Geo. Now kids will really be able to use their geology finds to make wonderful creations such as jewelry and keyrings. Or… they can just use it to make their rocks shine!
National Geographic Mega Crystal Growing Lab: This crystal growing kit is pretty cool. You can grow crystals and make your own night light!
Pet Rock: Give the gift of a pet rock! This little guy also comes with a certificate to make it official.
Rock Painting Gift Ideas
There are so many different rock painting kits and accessories to choose from! You can look through all of them HERE or pick one or two of my favorites below:
Rock Pens: I love this set because it comes with a fantastic set of pens that make it easy to decorate rocks as well as an e-book that will inspire some artistic inspiration for your rock hounding kiddo. Don't forget to throw in a bag of rocks with your gift.
Crayola Rock Painting Kit: This rock painting gift idea is perfect because it includes everything you need to paint rocks from start to finish.
Cactus Rock Kit: Here's where it starts to get creative! Learn how to paint a cactus rock with this rock painting kit.
Galaxy Rock Art Kit: Take a look at the stunning result of this rock painting kit! Beautiful.
The Art of Rock Painting: Does your rockhound need something a little more challenging? Scoop up this book that is full of tips to help hone in on those artful rock painting skills. For even more book gift ideas head on over to my Geology Books Post!
Magnetic Hematite Stones: These stones have one unique feature… they are magnetic! This makes them perfect for building. They could even be considered a fidget toy.
Fossil Gift Ideas
Fossil Collection Set: This set comes with 15 fossils including a fish fossil, shark tooth, trilobite, and a magnifying glass to take a closer look at these incredible specimens.
Jumbo Fossil Dig Kit: If you think your rockhound would enjoy digging up fossils instead, this kit is the perfect way for them to get their hands dirty.
The Study of Fossils: Complete with a guide, book, and fossils so kids can explore the world of fossils!
Don't forget to share your favorite geology gift idea with us in the comments! I'm sure we could dig up a few more good finds while we're on the topic (see what I did there?). How do you keep your rockhound interested in geology?
To drum up even more gift ideas, head on over to my Great Gifts for Children with Anxiety post or find out about Gifts for Hobbit Lovers of All Ages.