Spooky Spider Candy Stuffed Cupcakes
We love spreading random acts of kindness during the holidays, and have shared ways to help others raise kind kids before, and this year, I'm trying to be intentional about helping the kids perform acts of kindness all year long.
Halloween is a great excuse to surprise the neighbors!
Before we moved to teeny house, we lived in a neighborhood on a cul de sac, and enjoyed spending time with our neighbors. The kids were littler, but they still remember "booing" their little friends by ringing the doorbell and running away while leaving a basket of goodies on the doorstep.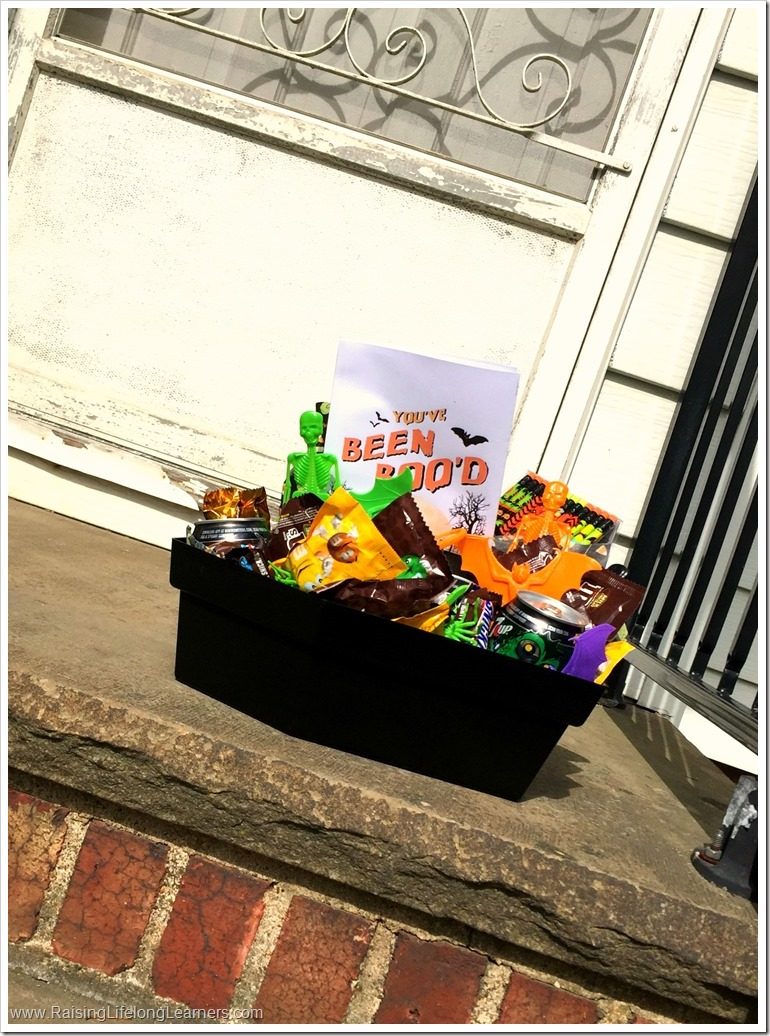 I decided that it was time to bring back that tradition and start it in this neighborhood.
Boo Your Neighbors with a Book Kit
Searching online for cute "boo" images to include with the boo kit, I found this one from Mars and Wrigley. It was perfect, and so simple to put together:
1. Cut out the "We've been BOO'd" sign.
2. Fold the "You've been BOO'd" greeting card from page 2, and tape the openings together.
3. Include the card and the sign when giving your BOO bundles to your neighbors.
Head to the store like I did for lots of fun stuff to fill your kits with. We grabbed a few big bags of Mars® Candy and a six-pack of 8-oz cans of 7UP® and another of A&W.
It was fun – we caught a demo while we were there, and got to taste test some of my favorite Mars® Candy like M&M's®, SNICKERS®, TWIX®, and MILKY WAY®.
While at the store, I looked for fun things to include with the Boo Kit. I grabbed a fun black plastic coffin candy bowl, Halloween pencils, stickers, and a bunch of creepy crawly Halloween critters in bright colors.
The kids decided that we needed to make spooky spider candy stuffed cupcakes, too.
Spooky Spider Candy Stuffed Cupcakes
These festive Spooky Spider Candy Stuffed Cupcakes are the easiest thing ever, and are totally an excuse to go trick or treating this year so you have lots of candy leftover to use up.
Ingredients:
Directions:
Follow the directions on the box of cake mix.
Fill each cupcake liner partway with batter.
Stick an unwrapped Mars Mini in the middle (I love the SNICKERS® and TWIX® best).
Cover with batter until the liners are 1/2 to 3/4 full.
Bake according to the directions on the box.
Remove and cool on a wire rack.
Using a baggie with the corner cut stuffed with frosting (we just used store-bought), pipe the frosting onto the cooled cupcakes.
Add festive decorations.
Enjoy!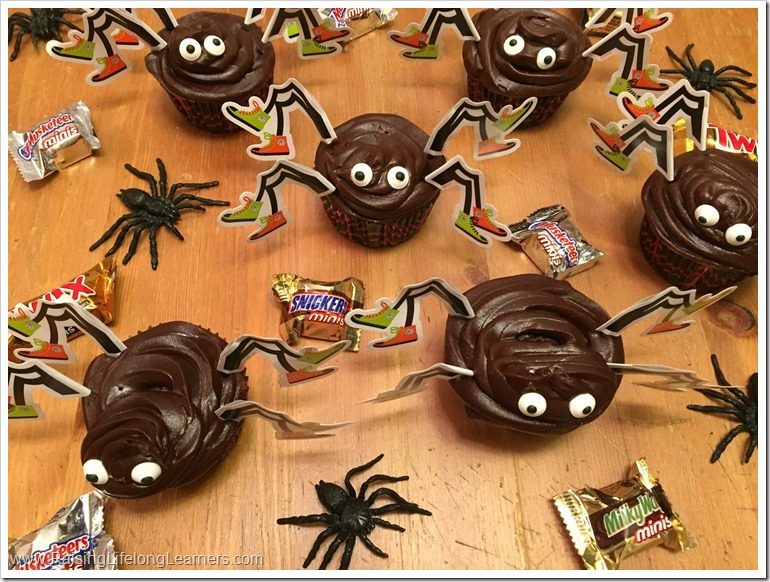 Add the cupcakes to your Boo Kit, or put them on a plate next to it. Head over to a neighbor's house when you think they'll be too busy to answer the door, set the gift in place, and ring the doorbell – make sure you run away to hide. Super fun. The neighbors were so excited to get their surprise that they couldn't wait to tell my kids all about it. And my kiddos? They just smiled and celebrated their friends' good fortune along with them.
It's your turn – head out and spread some fun this October. What would you include in your "Boo Basket?"