"Get him! Come on, Spidey, save the day!"
My four year old is riding in the back seat on our epic road trip this past summer, and was watching some of the Marvel superhero movies we'd brought along for the longer parts of the drive. Marvel is a safe bet because all the kids — from the 14yo and 4yo boys to the 10yo and 8yo girls — love superheroes.
Our family was invited to a media event and given tickets to see the show. All opinions — as always — are mine.
I've heard that the Marvel Universe Live show is amazing, but haven't had a chance to take the kids to see it yet. Our whole family is super excited, though, because Feld Entertainment is bringing Marvel Universe Live: Age of Heroes to Cleveland October 13-15 at Quicken Loans Arena… and we'll be there!
In fact, we were treated to a sneak peek media event a few days ago, and the kids are pumped! We met the characters, got to see a sample of the show, and had some time for a photo op with Spidey himself.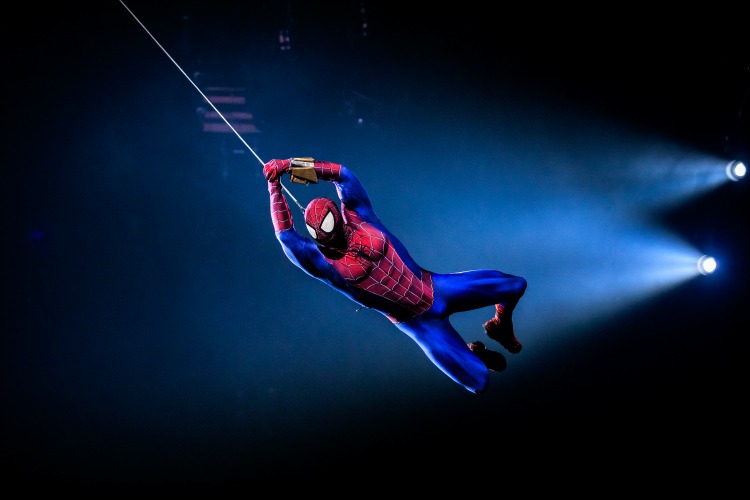 It'll be cool to be immersed in the Marvel Universe through the non-stop action, pyrotechnics, aerial stunts, cutting-edge technology, motorcycles and more that the show entails. This all new show unites Spider-Man, the Avengers, the Guardians of the Galaxy and Doctor Strange in a
race against time to recover the Wand of Watoomb before Loki gains control. This ancient artifact would allow Loki to achieve his eternal quest to crown himself ruler of the universe. Check out MarvelUniverseLive.com for more details.
Want to see the show, too? Tickets are going quickly, so snap yours up now. AND use the coupon code LL20 to save a little bit of money. Click through to the Q-Arena box office, choose your show, and enter LL20 in the 'special offers and promotions' box.
And, guess what? You can enter for your chance to win a 4-pack of VIP tickets to opening night (my family will be there, too!). Enter below & good luck! Maybe we'll see you there — my four year old will be the one shouting out to Spidey to "save the day!"
a Rafflecopter giveaway
You Might Like:
Colleen is an explorer, tinkerer, educator, writer, creator, and a passionate advocate for the needs of gifted and twice-exceptional children. She has a B.S. in elementary education, a M.Ed. in gifted studies, is a sought-after national speaker and educational consultant, and is the founder of the popular blog and podcast Raising Lifelong Learners, as well as Raising Poppies, a community of support for parents of gifted children. She lives in northeast Ohio with her four bright and quirky kiddos, patient husband, and ever-changing collection of small reptiles, mammals, and insects.
Latest posts by Colleen Kessler