Books With Quirky Characters
My kids are quirky, which I love. They're so wonderfully unique and never boring, always saying and doing unexpected things and livening up any room they walk into. Lots of gifted and twice-exceptional kids are quirky, differently-wired, with fun personalities and idiosyncrasies and delightfully different characteristics.
As much as we celebrate our kiddos' quirks, however, it can be tough for the kids to bear when they're young. They know they're different, and often this can lead to struggles with self-esteem, trouble making or keeping friends, and feelings of isolation. Since our kids think we're contractually obligated to compliment them, they don't always believe us when we tell them how wonderful we think their quirks are, either. So I'm rounding up a list of books with quirky main characters, off-the-wall stories, and adventures that are just as wonderfully different as they are.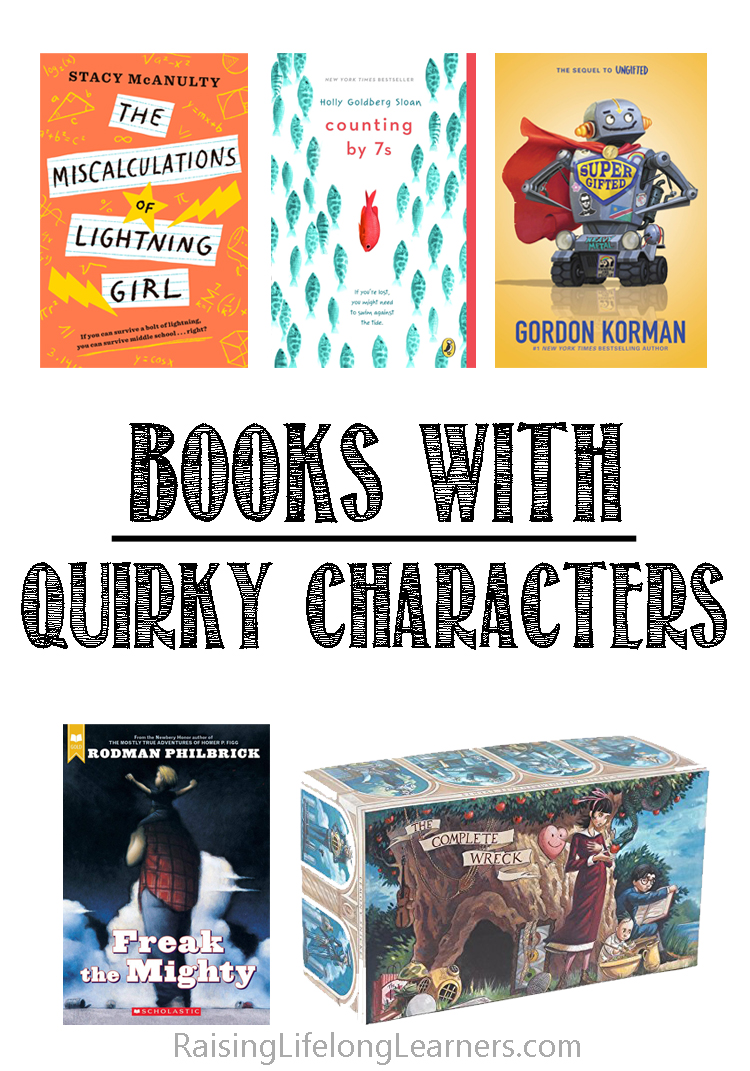 Books With Quirky Characters
We'll talk about Harry Potter in a bit, since this list couldn't be complete without him, but for now I'll share a few tried and true books with wonderfully quirky, different, gifted, or just oddball characters. The Miscalculations of Lightning Girl is a fun look at a middle school genius who acquired her mental abilities in an unusual way. A Wrinkle in Time and The Invention of Hugo Cabret are classic sagas full of fascinating characters and adventures. Supergifted, Ungifted, or just about anything by Gordan Korman is sure to make you laugh and love the endearingly different characters he creates, as will Skinnybones, a book I read about 10 times as a kid and laughed out loud at each time. Millicent Min, Girl Genius should be required reading for gifted kiddos who struggle with feeling different and making friends.
Books With Twice-Exceptional Characters
Struggling with quirkiness is often compounded by an exceptionality, an additional learning or physical disability. For too long, 2e characters were relegated to being supporting characters, people on the peripheral but not the main focus. Fortunately, there are now dozens of heart-warming and eye-opening books in which 2e kids can read about people like themselves. Wonder made waves when it told the story of a brilliant boy with physical disabilities, similar to the main characters in Freak the Mighty and Out of My Mind. Mockingbird is a deeply emotional story about a young girl with Asperger's coping with extreme loss, while in a similar vein Counting By 7's (one of my favorites) tells a humorous and emotional story of a young genius struggling with OCD and the loss of her parents. Fish in a Tree and My Name is Brain Brian are both instant classics that share the perspective of bright young kids coping with dyslexia.
Series With Quirky Characters
These book series don't just introduce quirky, different, or fun characters, they offer multiple volumes to keep the fun going! Assuming you already have the entire Harry Potter series, try diving into the quirky-kid favorite, The Mysterious Benedict Society books. Enola Holmes is a more recent discovery of mine, telling the stories of Sherlock and Mycroft Holmes' younger sister you never knew about (and Netflix has produced a movie based on the first book). Classics like Lemony Snicket's Series of Unfortunate Events (another you can enjoy on Netflix) and the stories of Anne of Green Gables (my personal favorite) are easy to find and widely enjoyed, plus they each have several volumes so the stories get to keep going on! Smaller series like Sideways Stories from Wayside School and Stargirl don't have as many books, but the characters are so fun and quirky that you'll want to read them over and over again.
Feeling the isolation of being different is a heavyweight to carry for quirky kids. Helping them to not only see themselves in other characters but to see the worth and enjoyment these characters bring is invaluable to their self-worth and development. I know there are so many more wonderful books with quirky and lovable characters that I just didn't have room to share, so be sure and leave your favorite titles in the comments below!