The Best Books for Teaching About Executive Functions Skills
It is incredibly difficult to watch your child struggle when it comes to planning, staying organized, and regulating their emotions. When we witness this struggle, as parents, we know there has to be a way to help them find not only tools, but tools that really work. It is so important to hone in on those skills because they affect every part of their lives. Managing time, making decisions, and controlling emotions are just a few executive function skills that can be improved, with a little help from these books.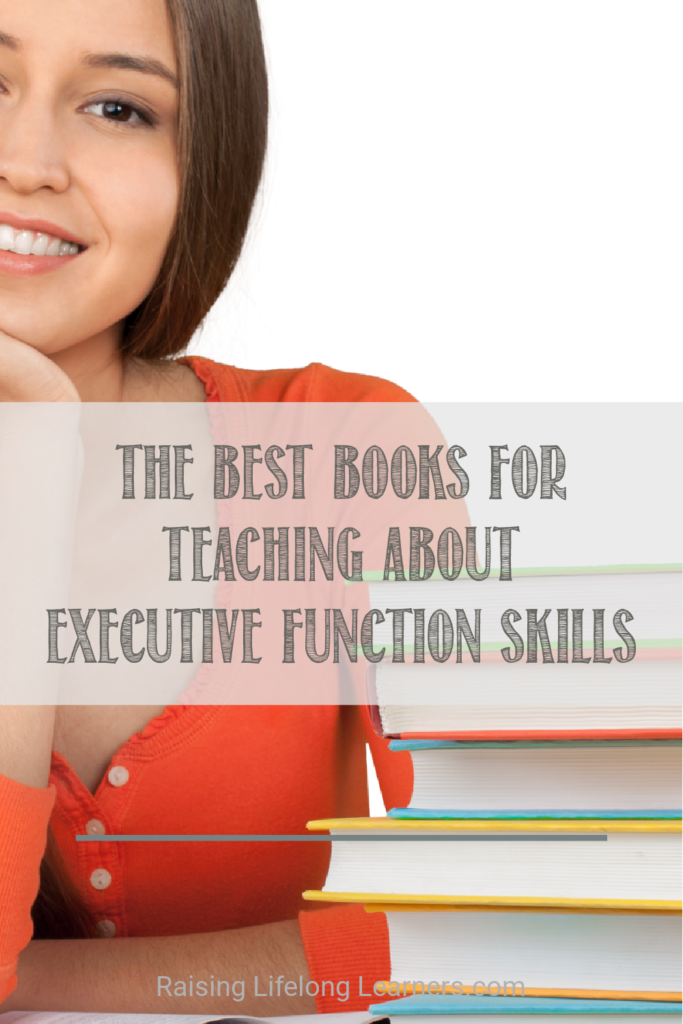 The Best Books for Teaching About Executive Functions Skills
To start, let's take a look at the best books for teaching about executive functions skills. Reading about organizational skills, planning, cause and effect, and more can help both parents and kids gain the knowledge and understanding they need to get a handle on executive functions skills.
Executive Functions Skills Books for Kids & Teens
Helping Your Child Strengthen Their Executive Function Skills Workbook: This workbook will help both parents and kids. I wrote it to help you focus on identifying areas in which your child struggles. It includes information on executive functions skills as well as thought-provoking questions that will help guide you to find solutions that fit your child's needs.
A Quiet Place: When schedules get full, quiet time falls off the plate. Read this book as a reminder to take a timeout, find a quiet place that allows you to relax. Life gets overwhelming, let's give our kids permission to have their own space to unwind. This helps to clear their mind to master executive function skills.
The Girl Who Never Made Mistakes: Our kids face a tremendous amount of pressure to always be right. The moral of this story shows us that life wouldn't be the same without the lows and the highs. Even though we do make mistakes, everything will still be okay.
Your Fantastic and Elastic Brain: Just as we exercise our bodies, we should also exercise our minds. This book is full of fun and thoughtful activities to get those brains moving.
My Day is Ruined!: When the unexpected happens emotions can build up and explode. Use this book to teach your kids how to handle the unexpected, even when the world seems to be crumbling around them.
Mindset Matters: A fantastic kid's book about having the right mindset. The perfect way to teach kids about being intentional about their attitudes.
Executive Functions Skills Books for Adults
FLIPP the Switch: Parents and educators can teach kids how to be flexible, control their emotions, learn how to plan, and more. I like this book because it applies to such a wide age range, 3 years to 22 years old.
Smart but Scattered Teens: If you have struggled to strengthen your kids executive function skills, give this book a try. The author has a unique approach that helps gifted students find ways to weigh risks, stay organized, resolve problems, and follow through.
Teenagers with ADD, ADHD, and Executive Function Deficits: A Guide for Parents and Professionals: This provides a great explanation of executive function deficits and their impact on a teens' ability to focus, prioritize, and plan. I love that it arms parents to help their kids succeed.
Remember — every kid learns differently. For some, changing the type of instrument they use to take notes can make a world of difference. What might work for one, might not work for the other.
A great place to start is by using my new workbook, Helping Your Child Strengthen Their Executive Function Skills, with your kids. Coupled with a book or two from the list above, these best books for teaching about executive function skills will do the trick.
You might also want to check out, Books to Help Your Kids Learn Mindfulness at Home, for your kiddos who get overwhelmed easily.
Please feel free to share your story with me in the comments. I would love to hear what has helped your child strengthen their executive function skills. We're in this together — I'd love to add more books, tips, and tools to my own toolkit.