Nurturing a Love of Theater in Young Children
I'm a newly minted theater mama, and loving every minute of it. Truth be told, I'm living a bit vicariously through my kiddos as I loved acting and singing when I was young, and was involved in theater until high school. And then I wasn't. I was discouraged by people very close to me, and vowed I'd never do that to my kids. I'd nurture their love, passions, and talents, whatever those ended up being.
I'm pretty glad the acting and singing bugs have bitten.
Last summer, my two oldest kids auditioned for a theater program and did a show. And they fell in love. In December, on a total whim, these theater newbies auditioned for a community theater presentation of It's a Wonderful Life — and were cast in two of only five kid roles. My Molly played Zuzu Bailey (Look, Daddy! Teacher says that ever time a bell rings, an angel gets its wings.) and Trevor played both Young George Bailey and Older George's son, Peter. It was a magical holiday season.
Thrown headlong into late night rehearsals and tech week (dubbed Hell Week by theater peeps for a reason), our family has been sitting through show after show for the last nine months. And loving it.
Julie Andrews and her daughter, Emma Walton Hamilton have teamed up with Jim Henson's puppets and Netflix because they know what studies have proven time and time again (and what we're learning firsthand) — theater builds amazing kids.
In a 2015 study, the University of Arkansas Department of Education Reform found that viewing live theater fostered kids' critical-thinking skills, problem-solving abilities, teamwork and collaboration, empathy and tolerance and compassion, and likliehood of looking at the other point of views.
Theater makes smarter, more compassionate kids who go on to become smarter, more compassionate adults.
Julie's Greenroom is a show designed to start fostering this love of live theater at home. And if you haven't watched it yet — do! It's so super cute and the special guests are amazing. Seriously some of the best in the theater world.
In an article on vulture.com, Emma Walton Hamilton says, "We hope by aiming our program at a young audience — although we really hope it's a family experience — that we are nurturing and cultivating, not just the artists, but the arts appreciators and the audiences."
It's just so well done.
Do yourself a favor — do your kids a favor — and check out this new show.
And, don't just watch the show with your kids. Encourage them to stretch their own creativity. Nurture a love of theater in them. Here are some great ways to do just that:
Make Puppets
Challenge your kids to make sock puppets or finger puppets and stage a show for the family. Encourage them to think about their characters and develop the story before they jump in, really making them dig deeply into thier creativity.
Sing
Kids love songs. Stage a sing along or a concert by tapping into their love of music. I have four kids who love Disney, country music, and Broadway show tunes. They're constantly humming and singing, especially since big sis has begun to take voice lessons. Give them a chance to work together or have an after dinner family sing along.
Take a Class
There are so many wonderful youth theater programs around to choose from. We've been fortunate to find several in our area. We have homeschool specific classes as well as amazing youth community theater programs. I'm sure your area does, too.
In the time my kids have been taking these classes, I have seen a huge increase in maturity, confidence, follow-through, and the development of some amazing friendships. It's so worth the time to drive them to and from. You won't regret it.
Support Community Theater
Community theater is the unsung hero of the arts. I'm sad that I have missed out on so many years of taking my kids to shows. In the nine months since we became a theater family, we've seen a huge assortment of shows — musical and not. And it's been amazing. There is some pretty fantastic talent hiding in the tiny theaters around the country. No need to go to Broadway, Playhouse Square (here in Cleveland) or any of the big theater hubs — though those shows are amazing too, and you SHOULD take your kiddos there as you're able.
But it's more affordable to take a family to see a show at the highschool or little theater down the road. And you're supporting the community that way, too.
The bottom line is that it's easy to nurture a love of the arts and the theater in your kids… and it's really, really important, too. Check out Netflix and the new amazing Julie's Greenroom, and see what is available in your area.
Think about those amazingly compassionate problem sovlers you're raising. Do it for them.
More Posts About Creativity: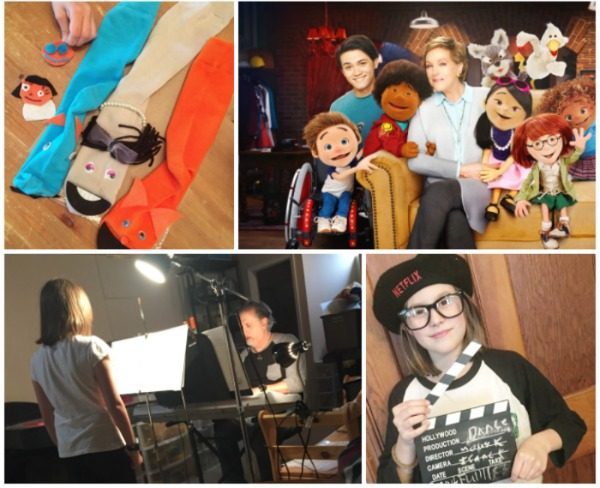 I am a member of the Netflix #StreamTeam which means I share monthly posts about how we use (and love) Netflix in our home. While I'm provided with a yearly subscription and gifts throughout the year in exchange for my posts, we've been subscribers for years on our own, and all thoughts and opinions are mine.