Valentine's Day White Chocolate Pretzels
Inside: These Valentine's Day White Chocolate Pretzels are the perfect after-school snack. Make some today — they're so easy!
I love making fun holiday-themed treats for my kids, and they love snacking on them. One of my very favorite ones to make are these Valentine's Day White Chocolate Pretzels! They're delicious and really simple to make, so even the busiest mom has time to throw some together!
The mix of sweet and salty in these yummy treats make them the perfect Valentine's Day snack! Bring them to your kid's class party or make them for a fun after-school treat.
Valentine's Day White Chocolate Pretzels
Pretzels are a go-to snack in this house, so I just knew my kids would love this fun Valentine's twist on an old favorite! Really, though, is there anything that doesn't get better with chocolate?
Ingredients
24 small pretzel twists
1/2 cup Wilton bright white chocolate melts
24 conversation hearts candies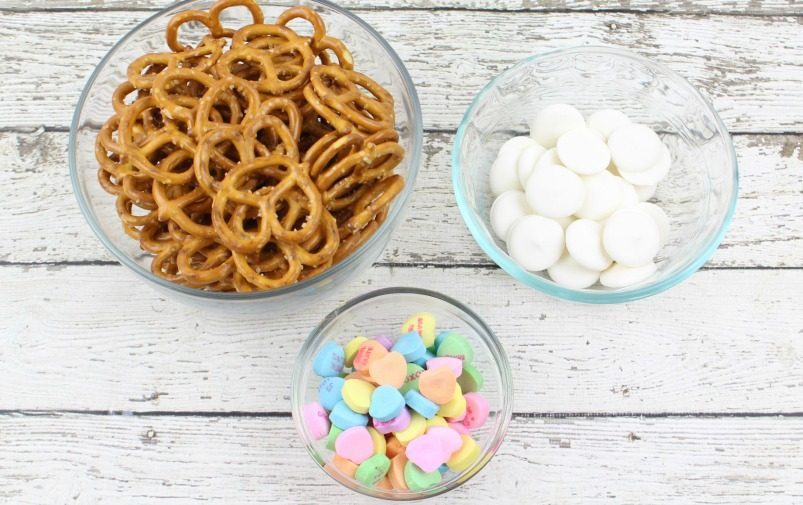 Directions
1. Line a large baking sheet with wax or parchment paper and lay the 24 pretzels down at least 2 inches apart.
2. In a microwave-safe bowl, microwave the vanilla chocolate melts for 45 seconds. Remove from microwave and stir until melted. You may have to microwave in additional 10-second increments depending on microwave wattage.
3. With a spoon, pour the melted chocolate into the middle of each pretzel.
4. Before the chocolate hardens, place a conversation heart candy piece on top of each pretzel.
5. Set aside for 15 minutes to allow the chocolate to completely harden.
6. Enjoy with your Valentine!
*You can store the pretzels in an airtight container for up to one month, so feel free to make them ahead of time and enjoy them all the way up to Valentine's Day!
Your Turn!
What is your favorite Valentine's Day Snack? Would you add any other candies to these?
More Valentine's Fun:
&