Do you homeschool year round? We do – a little bit. My kids do some reading and math over the summer to keep them moving forward with those subjects, and because were a little geeky, we do a lot of projects just for fun.
So… we do more FUNschooling over the summer. Educational fun things that the whole family can enjoy.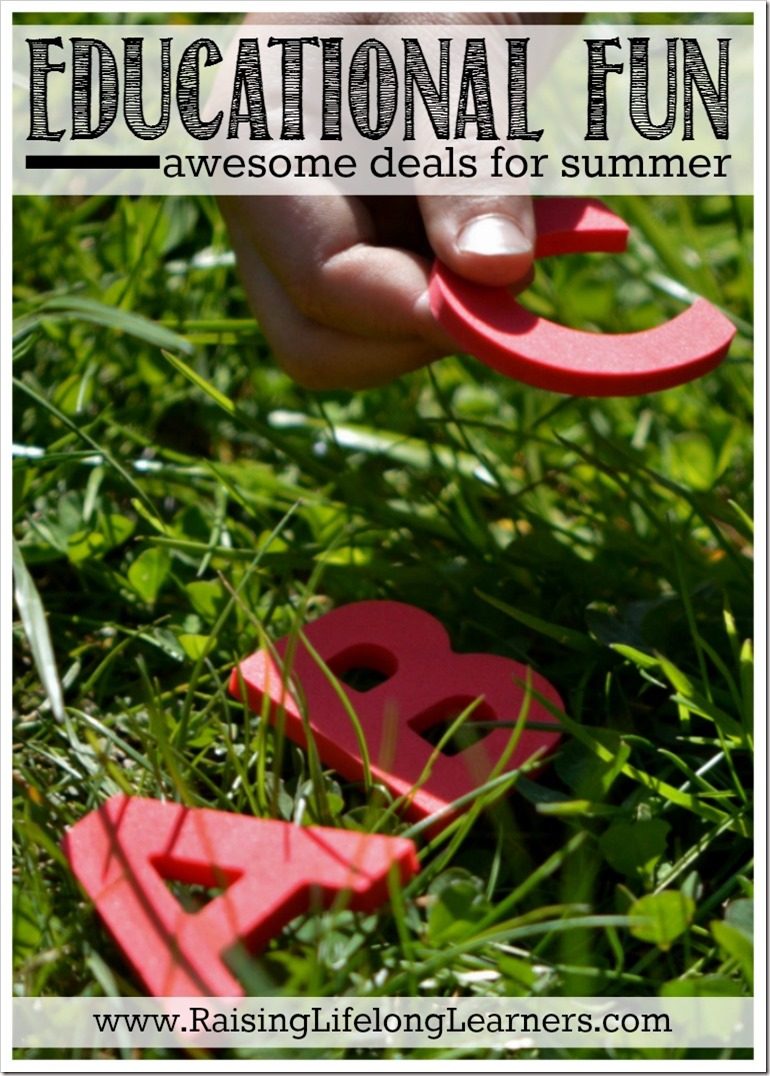 Many parents worry about losing the learning momentum during summertime, whether it's due to a less structured schedule, or weather that beckons everyone outside all day long. The challenge to keep kids learning through the summer can be turned into an opportunity if you have the right "tools" stashed away…
Here is a round up of fun and games for summer brain gain – educational FUN that the whole family can benefit from.
Times Tales is an interactive animated DVD that teaches kids the upper times tables without memorization. I've already shared how much we love learning using various mnemonic strategies. With Times Tales (which we use and love), kiddos simply follow along with the entertaining story – and learn as they go.
As they progress, they'll be guided into associating the stories they've learned with real math. With 70 reviews it has a five-star average rating. Here's one parent's thoughts:
"I was so excited to receive this DVD, but I was not prepared for how wonderful it would be! Few things exceed expectations in the way this learning tool did. I purchased it as a reinforcement tool for my middle schooler and she has really benefitted from it. As an added bonus, my preschooler is also well on his way to learning his multiplication facts, too!" – Lacey F.
Good for: Ages 5 to 12 Price: $19.99 down from $29.99!

Magic School Bus is an all time favorite for kids big and small. We LOVE Ms. Frizzle around here, and use their science shows, books, and kits all the time. This Math and Science Explosion combo is a 2-in-1 set of hands-on math and science fun.
The math board game is a race to make the volcano explode – first player to get all the math facts right wins! The double sided board means the gamified learning can go on for a long time, perfect for summer afternoons!
Good for: ALL ages Price: $53.99 down from $60!
My two littlest readers love the HOP site and apps. I love this deal because the fun can go on and on, as it's good for a lifetime subscription to the digital edition of Hooked on Phonics.
My husband is a reading specialist and suggested I buy this for the littles LAST year, and they still love it. It can be synced with computer, tablet, or phone. It's perfect for traveling (and even longer errands with the kids) since you don't need internet for use. This is a summer learning no brainer.
Good for: Ages 4-7 Price: $29.99 down from $49.99
Magnets, crystals, fossils – oh my! There are 7 kits in this incredible (and incredibly priced) set, perfect for any little scientist. With hands-on learning, this is a fun way to engage all children. Spur your kids curiosity in STEM (Science, Technology Engineering and Math) and have fun together while learning about the world. As one parent put it:
My 5 homeschooled kids loved this. I have a special needs child and this was a fun way to show him about science. It was so worth getting. I think I will keep buying these every year for all year long projects. -Shelly W.
Good for: Ages 5-10 Price: $59.95 down from $109.99, PLUS ships FREE to the continental US!
You can check "Summer Activities List" from your OTHER list of to-dos this month with this fun round-up of 52 summer pursuits including indoor and outdoor adventures, as well as simple activities easily integrated into your day. Download it, print it, and stick it on the fridge (or bring along for family visits) for a little daily inspiration this summer!
Price: Free – download it with one click!
More Summer Learning Fun
Here are some more great ideas for inexpensive fun – and learning – with your kiddos this summer: