I don't know about you, but there is only so much LEGO I can watch on Netflix before I'm ready to have someone ship me off to the loony bin. My kiddos love their screen time – and I'm not going to debate the pros and cons of it right now. When you're raising intense kids, sometimes you have to use the tools that work – whatever you thought you'd do when you were a perfect parent… you know, before you had kids…
Sometimes, I just need to put the kiddos to bed early and curl up on the couch in comfy clothes, and binge on some of my favorite Netflix shows. When I'm sneaking mommy time, I like old favorites as well as trying out new recommendations.
Check out some of my recent binges…
Sneaking Mommy Time with Favorite Movies
Old, and well-loved movies are the best. These are some of my time-tested, well-worn favorites. (You'll probably notice that I can be a little sappy…)
As you wish… He's only mostly dead… Inconceivable… I don't think that means what you think it means… There are so many great moments in
The Princess Bride
. I just adore this movie. Do you love it, too?
I've always been a huge Meg Ryan fan, and a lover of historical romances, so
Kate & Leopold
is one of my favorites. Have you seen this one? I love the romance between the 19th century duke and a 21st century modern executive woman.
Struggling to hold onto her sense of romance and creativity in Becoming Jane, Jane Austen falls in love with a poor apprentice lawyer despite her parents wishing her to marry a wealthy man. I just love it.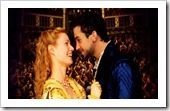 This is a great romantic
comedy about Shakespeare being inspired to write Romeo and Juliet. I like watching Gwyneth Paltrow in Shakespeare in Love for all of the literary allusions.
Jennifer Lopez in Maid in Manhattan is adorable. I just watched this the other day (again) and fell in love all over again. It's just such a sweet romance.
Sneaking Mommy Time with Favorite TV Series
When I'm watching movies, I tend to go for quirky, smart, and often supernatural shows. I love following brilliant characters through season after season as they solve mysteries, crimes, or puzzle through a strange existence. Here are some of my faves…
Once Upon a Time is such a cool collision of fairy tales and reality. I love the imagination it took to create such an amazing story and world from such well-loved tales.
This is a modern day adaptation of Sir Arthur Conan Doyle's detective stories about Sherlock Holmes. The humor and intrigue is fun.
From the first episode in 1993 to present, I've been a fan of Mulder and Scully on The X-Files. Sci-fi, government cover ups, and the weirdest of the weird. I love it all.
Such a cool perspective on the legend of Merlin and Arthur… when they were young men, coming to grips with their destinies, and all the ins and outs of fulfilling them. This is a great show for literature lovers.
I love this dark, irreverent, and wickedly smart show. House, M.D. follows a brilliant, but disdainful, physician as he saves patients again and again from mysterious ailments. Quirky and bright – just like the kids I love and advocate for.
Sometimes a mom just needs a little time to herself, and Netflix (and a glass of wine) can give her the pick-me-up she needs to keep going. What are some of your favorite shows to watch when you need to check out of reality for awhile? Let me know so I can check them out the next time I need a new movie or series.
Other Netflix ideas for enhancing your home:
I love being a part of the Netflix #StreamTeam, and sharing all the great ways we use streaming video in our family. Check out these fun ideas: