All Tied Up in Knots | Anxiety and Think Outside Boxes
Has your child ever told you that she feels like her tummy is all tied up in knots when she's feeling anxious about something? Childhood anxiety is real, valid, and so, so tough for kids — and their parents, and I loved that our Think Outside Boxes subscription's monthly section on empathy was all about anxiety in this month's "knot box."
There are so many ways that anxiety can manifest itself in kids, and it often doesn't look like what we think it should. And it's an important concept for all kids — anxious or not — to understand.
And because we have an anxious kiddo of our own, I was thrilled to find that the "empathy" section in this month's "Knot Box" from Think Outside Boxes focused on empathizing with those who struggle with anxiety. From their workbook, "Feeling anxious or nervous is nothing to be ashamed of…"
I just love that.
There's so much more to the box this month than that, though. Kids get some new tools to add to their survival packs:
an aluminum canteen
knot tying cards
50 feet of paracord
a dual carabiner
an emergency contact card
a fun color-changing pencil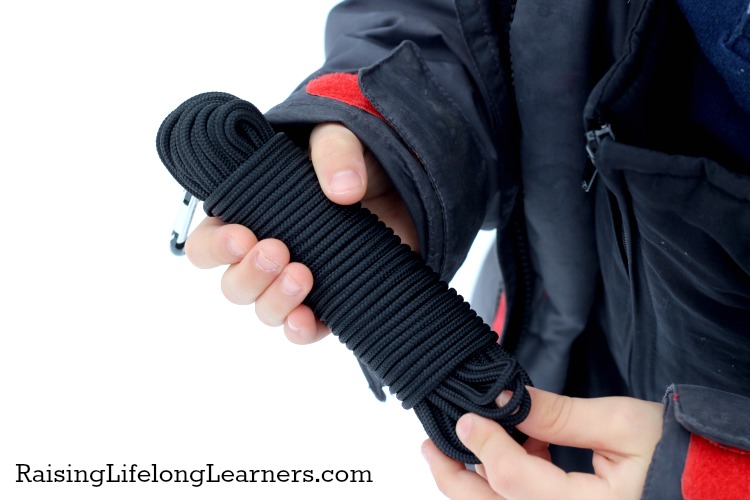 As always, the workbook is where the magic comes in. In this one, kids reconnect to the first box by recalling Morse code (which they learned then), and applying it to knot making. You can use a series of knots and spaces to replicate Morse code and signal for needed help.
There are basic knots to learn and practice, along with the vocabulary that goes along with them. I especially love the section teaching kids about why it's so important to respect the natural order of things — keeping wildlife wild and preventing bears from raiding camps by storing food properly.
Simple machines are brought into play with a discussion of pulleys, mechanical advantage, and pulley systems using carabiners. On the final few pages of the workbook, kids learn about weaver birds, making firewood carriers, and Big Bend National Park.
Overall, this is one of the best things we've done for our homeschool. Our kids are learning to take risks, solve problems, apply knowledge, and are empowered about their abilities.
Anxiety is real for so many kids. Empowering those who struggle with it through activities like those found in Think Outside Boxes, and teaching other kids about those who struggle goes a long, long way towards helping everyone understand it better.
Grab a subscription to Think Outside Boxes ($10 off with code RLL10) now, and share in as many adventures as you can this year with your kids.
Read More About Anxiety:
More About Think Outside Boxes