Building allows kids to learn about S.T.E.M. concepts while having fun. With different materials to build with, and S.T.E.M. puzzles to explore, kids can dig into different ideas about how all things work.
Answer kids' curious questions through play! We love incorporating building sets with different challenges to really get the kids thinking. You can spark imaginations with these toys for young builders, too.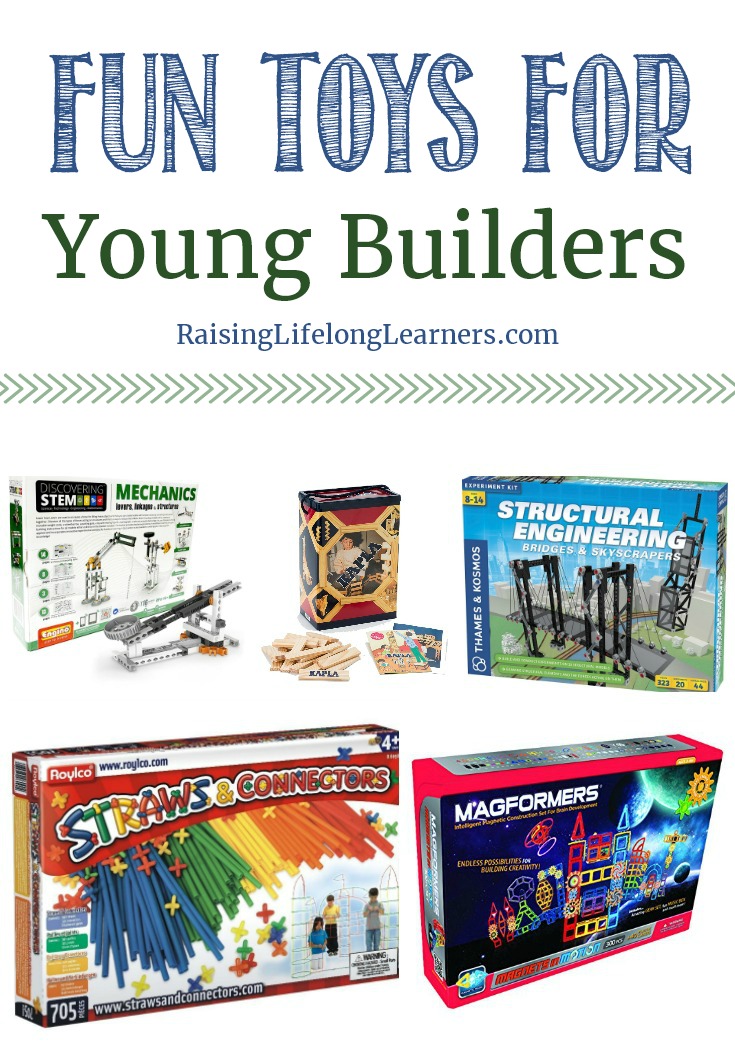 Toys for Young Builders
Roller Coaster Challenge: One of our newest favorite toys is the award-winning Roller Coaster Challenge from ThinkFun. It's amazing. Our littlest guy plays with it like a marble run, setting up tracks and seeing what happens. The bigger kids love to challenge themselves to solve each puzzle included on the cards. You will LOVE this game!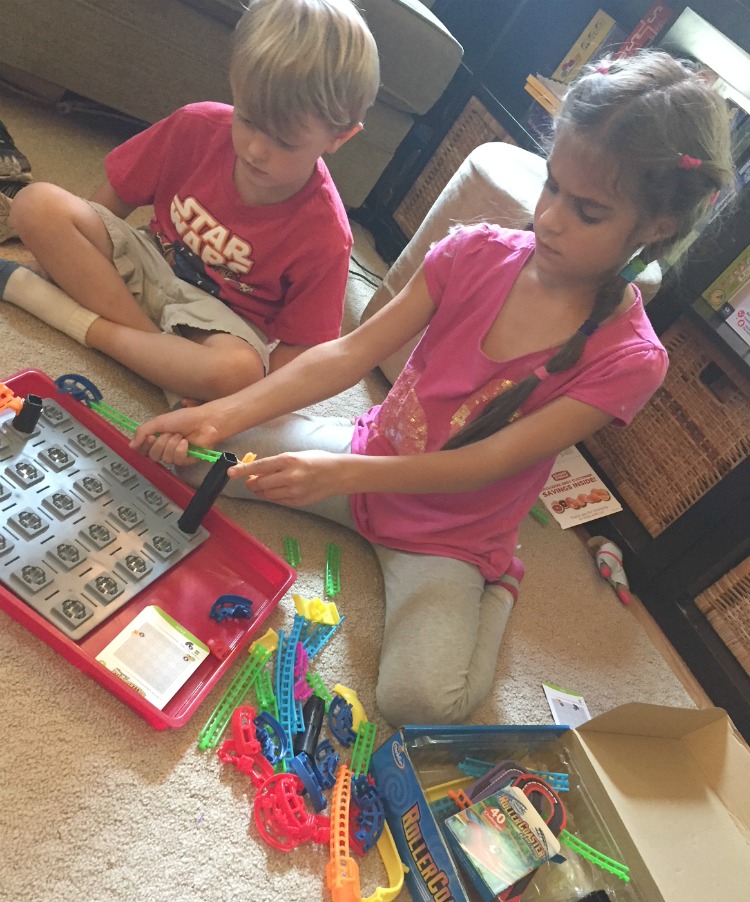 Straws and Connectors: This toy allows kids to build different structures and shapes. With over 700 pieces, you can even build forts and other kid-sized structures. I keep our set in a zipper pouch and bring it along with us to co-op and other places we might need extra activities for the kids.
ZOOB BuilderZ S.T.E.M. Challenge: Build a zip line, trampoline, catapult and more with this building set. You can also solve challenges that are included. What's super cool is that there are plenty of other sets to add-on to this one.
Discovering STEM Mechanics: This kit allows kids to discover levers, linkages, and structures by building real working models. Some of the structures that can be built include a see-saw, weight-scale, panto-graph, parking gate, and more.
Imagability Wedgits: Use the design cards to build structures that are made with 3D shapes. This set comes with a building platform to help keep the pieces in place. We've had Wedgits since the oldest was a baby, and they've gotten so much play over the years.
Gravity Maze: This is another one of those logic, S.T.E.M., and building games that run the age gamut here in our house. My little ones have pulled it out again and again, and the bigger kids race to see who can solvoe puzzle cards the quickest.
Kapla Blocks: Step up the building game with these wood planks. They allow builders to make some pretty incredible structures. They even have a set of Colored Kapla Blocks. These super simple looking blocks can actually spark the kids' imaginations and astonish you with their creativity.
K'nex Model Building Set: With the K'nex pieces you can build models that move. This makes it easy to build cars, animals with movement, and even K'nex Amusement Park Rides. We have so many different sets lying around this house. You really can't go wrong with any type of K'nex.
Thames & Kosmos Geckobot Wall Climbing Robot: Not only can kids build a gecko out of this kit, it can also climb up and down windows just like the real thing. And, if your kiddo isn't into a gecko robot, you can try the Thames & Kosmos Gyrobot or their Catapults and Crossbows sets.
Structural Engineering Bridges & Skyscrapers: Learn about structures by building bridges and skyscrapers. Want more structural learning? Try the Physics Workshop kit.
Techno Gears Marble Mania: Build a marble run unlike any other with speed channels, 3D connectors, and space sound. Marble runs give my young builders hours of fun and learning. If you love this set, you can add on the Learning Journey Vortex 2.0 or the Marble Mania Galaxy 3.0.
Magformers: You can use these magnetic pieces to build so many things. You can start with one of the larger Magformer Starter Kits and add to the set with kits like this Magformers Dinosaur Building Kit. Years ago, when our now 15yo was just five, a friend bought us our first set of these, and we've added to it every year since. It's probably one of our most played-with toys.
Aftershock Earthquake Lab Set: Learn about the strength of earthquakes by building structures to withstand their strength. My kids experienced a small eaarthquake when we visited California a few years ago, and they loved learning more in this kit.
Laser Pegs Race Car: Build a race car that lights up! The entire Laser Pegs Building Kit Series gives kids the chance to build everything from dinosaurs to space shuttles. These sets have building blocks that light up!
LEGO Chain Reactions: Another one of my favorites. This book/kit explores building LEGO machines that move. It can spark kids' creativity and lead to innovative Rube Goldberg setups around the house.
For even more STEM learning fun, visit our other STEM Posts.
Now it's your turn to tell me what your thoughts are about these toys for young builders. I know my kids love to learn about STEM through building. With these items now your kids can get excited about it too!
Share your favorite building toys and game with us in the comments.
More fun science for kids: