Cheesy Spinach Bites | Recipes for Kids
These little spincah bites are perfect as an appetizer or healthy lunch for entertaining or a quick lunch with the kids.
Do your kids gobble up their vegetables with no prompting? Or are they like most kiddos and need a little persuading when it comes to the green stuff? I'll admit that I have a couple of each type around here. But all of them love these cheesy spinach bites any time I make them.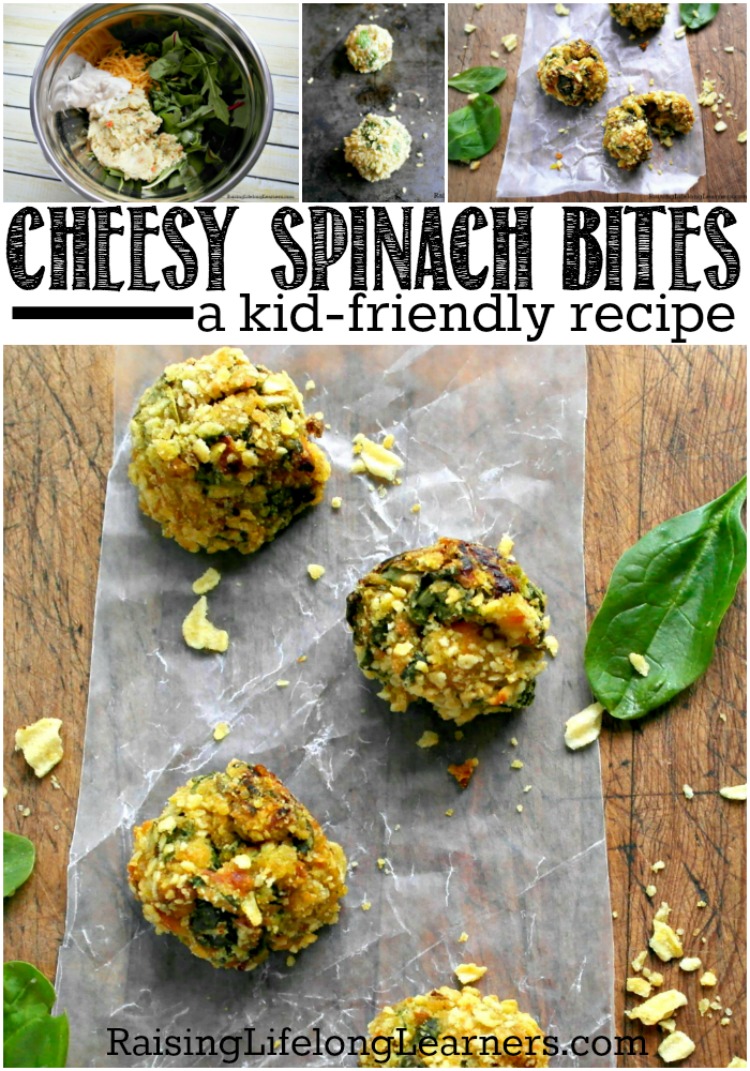 And they're super easy to make.
Cheesy Spinach Bites Recipe
What could be easier than throwing together these baked cheesy spinach bites in the middle of the homeschool day for a yumy lunch? Absolutely nothing, which makes these savory snacks the perfect thing to keep in your homeschool mama lunch files. Try them — and get the little ones to help you!
Ingredients
12oz bag of frozen, chopped spinach (I used fresh because we had it on hand)
1 large egg, beaten
1/2 cup shredded cheddar cheese
1 box of stuffing
1 tablespoon mayonnaise
Pinch of Salt & Pepper

Directions
Preheat the oven to 400-degrees.
Defrost the spinach and drain any excess water.
Prepare the stuffing per the package instructions, with the following adjustment :
Use half the amount of water called for and reserve 1/2 cup of stuffing (for coating the spinach bites with)
Mix the prepared stuffing, spinach, cheese, egg and mayonnaise in a bowl until well combined.
Crush the reserved stuffing and add to a small bowl (you can also add some bread crumbs)
Scoop a small amount of spinach mixture into your hands and roll into a ball.
Roll into the crushed stuffing to coat.
Place on a cookie sheet. Bake for 20 minutes or until golden brown.
Allow to cool for just a few minutes, the filling in the middle is extremely hot.
NOTE: This is an easily customizable recipe. You can add in other vegetables, change out the cheese type, or coat in crackers or crushed chips. Be creative.
More Kid Friendly Recipes: