Great Books to Read With Your Kids in April
There are so many things going on in the month of April! You probably already know that Easter lands in April this year but so does Babe Ruth Day, World Penguin Day, and we cannot forget Arbor Day! These great books to read with your kids in April will have your family enjoying each event all while learning and exploring.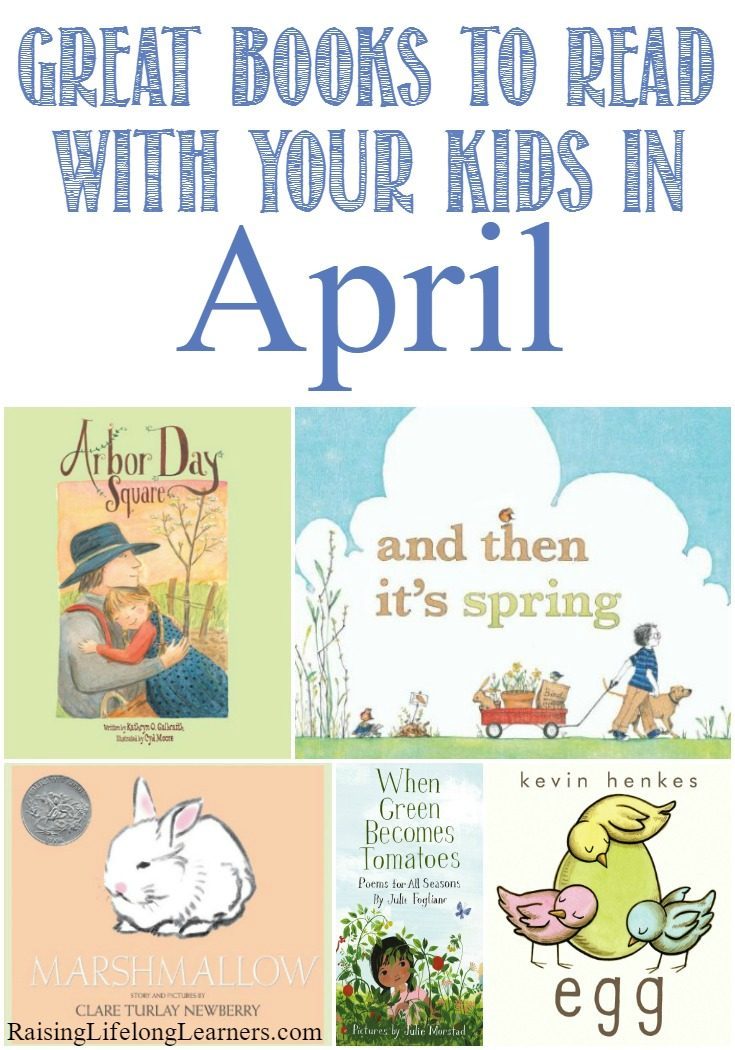 Before we get started with April's book list, I wanted to make sure you are getting as excited as I am for the release of my new book 100 Backyard Activities That Are the Dirtiest, Coolest, Creepy-Crawliest Ever! You can pre-order your copy now and have it in your hands on the day it releases — May 2nd! It is full of ideas your kiddos can use to turn your backyard into a hands-on nature and science museum.
Great Books to Read With Your Kids in April
Home Run: The Story of Babe Ruth: Did you know that Babe Ruth was once just a boy playing ball in a field? Read this book to discover just how this baseball legend rose to fame.
Tacky the Penguin: Follow Tacky as he stands out from the crowd and discovers that there are several benefits to being true to yourself. There are several other books that follow Tacky's adventures such as Tacky in Trouble and Tacky Goes to Camp. These are the perfect books to read for World Penguin Day on April 25th.
Miss Rumphius: Also known as the Lupine Lady, this story gives kids inspiration in knowing that small, deliberate and kind actions can create a better world for everyone.
Earthquakes: Reading about earthquakes is a great way for kids to take interest in the development of the Richter Scale. And what do you know…. it just so happens that National Richter Scale Day on April 26th. This book is a great leaping off point for kids who are curious about the richter scale and how it has helped the progress of studying earthquakes.
And Then It's Spring: A boy and his dog decide that they have had just about enough of winter. So they decide to plant a garden. As the weather changes, will they be able to tell that spring is just around the corner?
When Green Becomes Tomatoes: Poems for All Seasons: Poetry + seasons equals music to my ears. Kids love poetry. So in honor of Great Poetry Reading Day on April 28th, let's read some poetry. This book is perfect for such an occasion.
Wet Cement: A Mix of Concrete Poems: This book is also perfect for Great Poetry Reading Day. It is full of silly poems that will help your child become creative with their words and feelings.
999 Frogs Wake Up: What happens when spring arrives? All of the little critters start to wake up… even the frogs. But when they discover that they are the first to wake up, they are weary about waking all of the other critters, especially the snake.
Arbor Day Square: A story about building a new village into a home. Complete with houses, barns, fences, and trees of course.
What Tree Is That?: Learn how to identify trees with this guide made by the Arbor Day Foundation. It is full of pictures and steps to help anyone (even kids!) identify different trees.
Egg: When eggs start to hatch, birds peck their way out of their shell. But when one egg doesn't hatch all of the birds begin to wonder what is in the last egg. Can you guess?
Marshmallow: Meet Marshmallow, a baby rabbit that moves into a home with a cat named Oliver. At first Oliver doesn't know about Marshmallow, but soon, the two become friends.
The Velveteen Rabbit: An amazing classic book about how toys become real. The story of this sweet rabbit will stick with you for years to come.
Make Way for Ducklings: Another classic book that is a must have for Easter. This story follows Mrs. Mallard as she tries to find a way for her ducklings to get to the park. The only problem is they have to make their way through Boston first. With the help of some friendly folks do you think they will make it safely?
These great books to read with your kids in April will have everyone learning something new, all while cuddling up with your kids and a great book. What are your favorite books to read in April? Did any of them make our list? Share your favorites in the comments!
More great booklists for your kids: