Great Books To Read With Your Kids in August
Oh summer! How I love you. Warm weather, swimming pools, BBQs, juicy slices of watermelons, and of course, we cannot forget our beloved list of summer books to devour.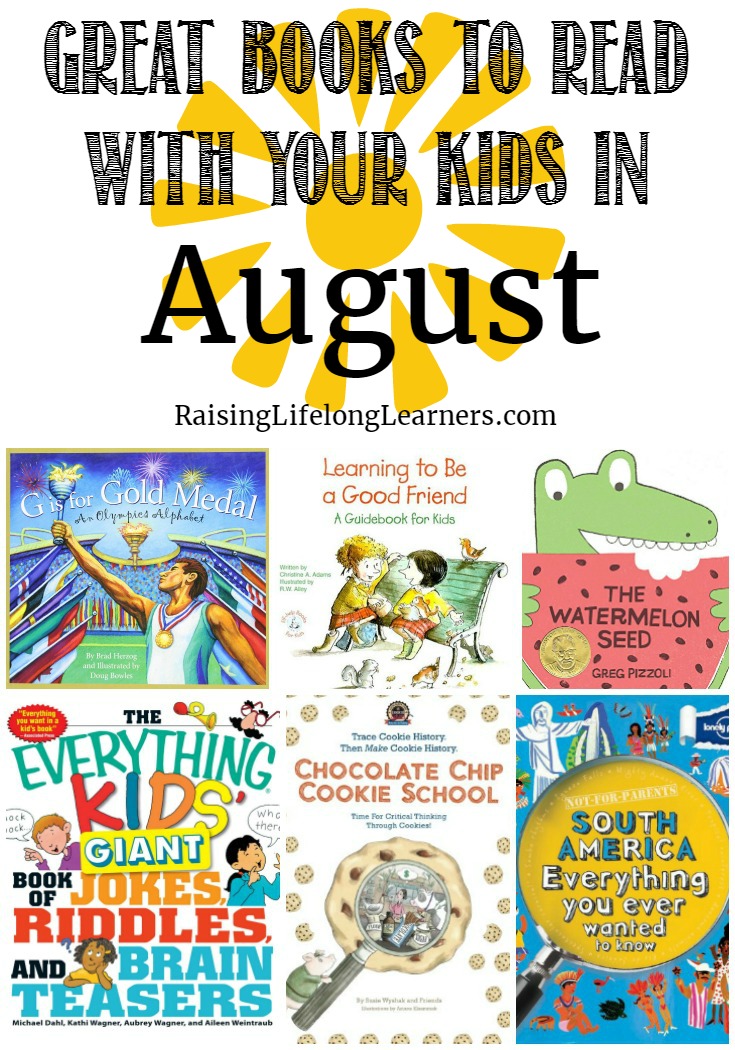 These great books to read with your kids in August resemble the last bits of summer, as fall is just around the corner. Get outside, play and discover with my book 100 Backyard Activities That Are the Dirtiest, Coolest, Creepy-Crawliest Ever! It will turn even the smallest of backyards into a discovery museum that your kids themselves can lead.
Then, check out these fun titles…
The Watermelon Seed: Have you ever met a crocodile who is afraid of eating a watermelon seed? If you answered no, then this book is perfect for a summer read. It also happens to be perfect for Watermelon Day on August 3rd! Another great book for this sweet and juicy day, One Watermelon Seed, is aimed towards younger kiddos who are learning how to count. As you read these sweet tales, don't forget to serve a sweet snack to go along with it. This list of Watermelon Crafts will also keep those curious hands busying learning more about everyone's favorite fruit, the watermelon.
Chocolate Chip School: Did you know that National Chocolate Chip Cookie Day is August 4th?!? Lets celebrate this classic cookie with a kid's book loaded with the history of the chocolate chip cookie. After you have devoured this book, head into the kitchen and make a batch of cookies to share with a neighbor or friend. Baking in the summertime is a great way to show kids how to get around the kitchen, it teaches them about fractions, and if they catch on to baking, it crosses a to-do task off of your list.
What Are the Summer Olympics: The Summer Olympics begin on August 5th. This book breaks down the history of this incredible event in an easy to read book. You could also pick up G is for Gold Medal, which is an alphabet book based on the olympics. Perfect for kiddos who are learning their letters. This would also be a great book for older kids to read to their younger siblings.
Winners Never Quit! Mia Hamm wrote this true story that is centered around the mindset that winners never quit. It talks about the importance of being part of a team over winning every game.
Not For Parents South America: This book has everything you need to know about South America. While the Summer Olympics begin in Rio, take advantage and teach your kids about South America. There are some incredible things that come out of Rio… including a man eating fish!
Learning to be a Good Friend: Use this guide to friendship as a way for kids to make friends. Not only is this perfect for Friendship Day on August 6th, but it is also a great tool to use when school comes back into session… which is just around the corner!
The Kid's Campfire Book: Summer brings us the wonderful world of camping. This book is a great guide that discusses fire safety, picking a campsite, and it even teaches kids about the constellations. If you want to have a really successful camping trip (even if it is in your own backyard) celebrate National S'mores Day on August 10th by pitching a tent and starting a campfire.
The Everything Kids' Giant Book of Jokes, Riddles, and Brain Teasers: Get those kids ready for Tell a Joke Day on August 16th. Read up on all things that will make them (and hopefully you!) laugh until your face hurts! Time to get the giggles on with those kids.
Summer Days & Nights: Soak up the last bits of summer with this book that focuses on the wonderful parts of summer through the eyes of a little girl. Follow along as she discovers a way to beat the heat all while discovering the joys that summer brings.
These great books to read with your kids in August will help everyone in the family savor the last month of summer and all of the fun it brings with it. Everyone is about to go back to school. Let's finish this summer season off with a bang by reading these fantastic book picks.
What are your favorite books to read during the summer? Did any of them make our list? Share your must haves with us in the comments!
More Great Booklists: