Books to Help Kids Learn About Anger
Although anger is a natural emotion, it can be difficult to handle. If you find that your kids are having a hard time managing this strong emotion, start with these books to help kids learn about anger.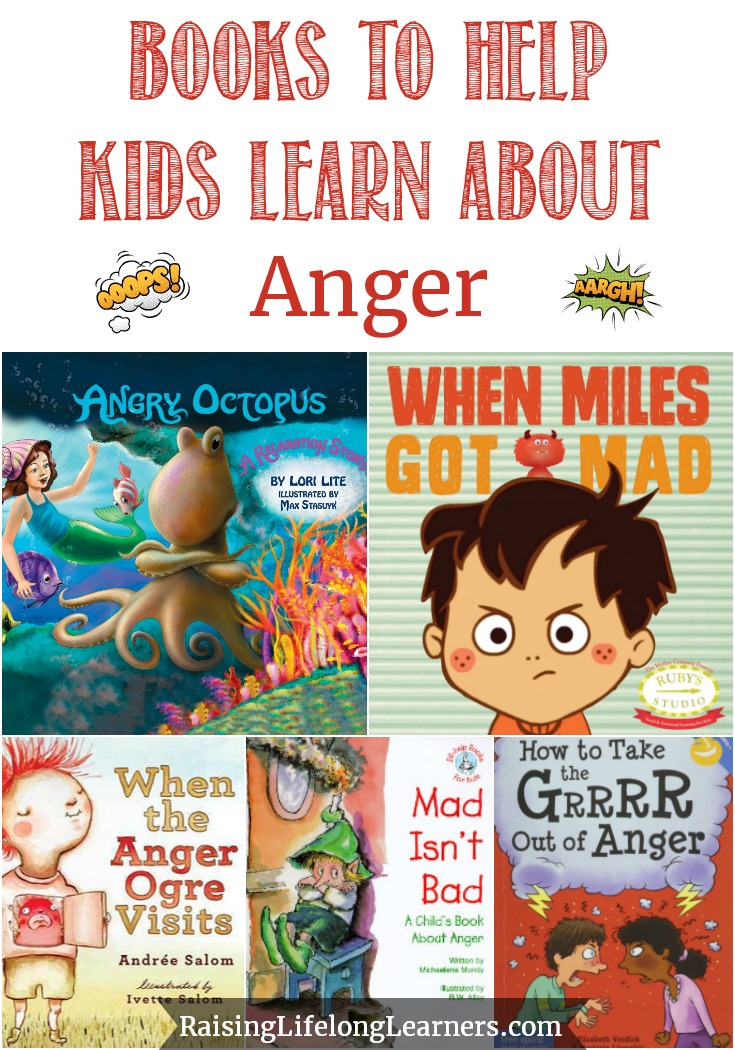 Anger is a very normal emotion to feel. Unfortunately, it can be a very difficult to handle. Just as it is with other emotions, handling anger does not come with a manual. I've found the next best thing to help, books!
You will find something for every age on this list. There are a variety of situations that are discussed and handled with realistic solutions.
If you homeschool, or have a group of kids to work with, Seeing Red curriculum is a great resource to use as a way for kids to gain the tools they need to handle anger.
Books to Help Kids Learn About Anger
Coping Skills for Kids Workbook: This is a workbook that gives kids a solution to handling not only anger, but anxiety and stress too. I recommend getting the hard copy of the workbook. That way, kids can take it with them when they are out and about. With over 75 coping skills to learn, this book is a great resource to help kids learn about anger.
My Mouth is a Volcano: Have your kid's words ever flowed from their mouths like a volcano? Then this book is perfect for you. The story gives a great perspective on how it feels to become overwhelmed, and how to handle those feelings before exploding.
When I feel Angry: I recommend this book for younger kids. The main character in this book is a rabbit, who gets angry. There are many ways rabbit can handle being angry, and hopefully these techniques will help your child too.
When Miles Got Mad: A great book for kids who have younger siblings. This story follows Miles, who gets super angry when his little brother breaks his toy! With the help of his reflection, who is a big red monster, he learns how to handle his emotions.
Jilly's Terrible Temper Tantrums: After throwing a tantrum, Jilly realizes that with a little help from her parents along with a hug, that she can handle the angry feelings in a calm way rather than being so angry.
Angry Octopus: With the help of an octopus, kids will learn how to breath, relax, and focus their anger in a positive way. Pair this book with Angry Octopus Color Me Happy, Color Me Calm Coloring Book to help your kids process their emotions.
How to Take the Grrrr Out of Anger: The real life cartoon illustrations in this book helps normalize anger. It gives kids real life methods on how to control and manage their anger in a positive way.
Hands Are Not for Hitting: This books talks about anger and how sometimes it shows itself through hitting. This can be a challenge for some kids, but by providing positive reinforcement and structure through consistency and books such as this one, we can create an environment where our kids will not resort to hitting or violence when they become angry.
Zach Gets Frustrated: Zach is having a miserable day. Bad things keep on happening to him, which makes him super angry. But his dad has a really neat trick to handle his anger, and it only takes three easy steps. If you fall in love with this story, don't forget to check out the rest of the Zach Rules Series.
When the Anger Ogre Visits: A great perspective on how to recognize anger and handle the emotion without getting angry. This book teaches kids to invite their anger to have a seat. Perfect for the imaginative mind.
Mad Isn't Bad: This book talks about the choices we have when anger strikes. It gives kids different ways to cope with their anger.
Anger can be very overwhelming for kids. Especially if they do not know how to handle the emotion. Use these books as a way to communicate with your kids. Being able to relate to the characters in these books will help them learn how to manage anger in their very own way. Every child will develop their own unique tools in combating anger. Be there for them, listen, suggest ideas, and most importantly try to understand how they feel. When kids reflect, they learn. And what better way to do that than with their parents.
More Great Booklists: