It's May! Let's welcome this wonderful spring month with a new list of books to devour.
Up first is my new backyard nature science book, 100 Backyard Activities That Are the Dirtiest, Coolest, Creepy-Crawliest Ever!  Check it out — it's currently the number ONE hot new release in Children's Science Experiment books on Amazon and is on sale!
I know you are going to love the kind of discovery that unravels from the activities in this book. You won't need any special tools or gadgets, just the great outdoors. Just walk out into your very own backyard!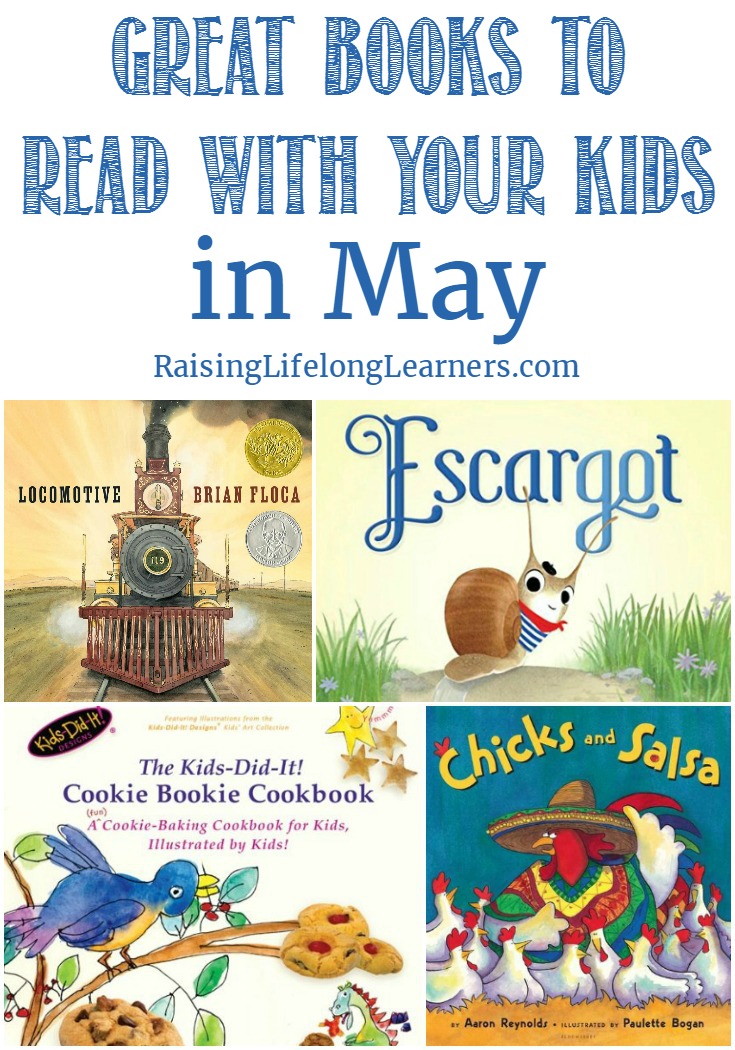 Great Books to Read With Your Kids in May
Babies Don't Eat Pizza: Baby Day is May 2nd! This is a great opportunity to teach kids about babies. The silly title will pull them in and get them hooked on a book that teaches kids what to expect from a new baby. Great illustrations too!
5-Minute Star Wars Stories: If you really need a reason to bring more Star Wars into your life, let me remind of you of an important day that lands on May 5th, Star Wars day! This book is great because the stories are short, which make it a quick read. It is also a good book for kids to practice their reading skills on.
Fiesta Time!: Celebrate Cinco de Mayo with this book that teaches kids all about the traditions of this fun day. Teach kids all about this day in history, while having a fiesta!
Chicks & Salsa: An adorable story about chickens who get sick and tired of eating the same old chicken feed. With a few ingredients from the garden, they make salsa! The perfect silly story for Cinco de Mayo.
The Kids Did It!: A wonderful cook-ie book made for kids, by kids. This cookie book is packed full of great recipes… even one for a chocolate chip cookie recipe, which is perfect for Eat What You Want Day on May 11th OR for Chocolate Chip Day on May 15th! Not only is this book for kids, all of the illustrations are drawn by kids!
The Wide-Mouthed Frog: This pop-up book is perfect for Frog Jumping Day on May 13th! The story follows a wide mouthed frog who wants to know what all the critters in the swamp are eating. He gets a little more than he asks for when he meets a neighbor who loves to eat frogs!
From Tadpole to Frog: Here is another great book for Frog Jumping Day that teaches kids all about how frog's grow from itty bitty tadpole to full grown frog!
Locomotive: Go back in time when families were traveling by train in this colorful book full of incredible detail about all of the sounds, sights, and places you experience while traveling by train. Oh! Did I foget to mention, National Train Day is May 13th!
What NOT to Give Your Mom on Mother's Day: In this story, a little boy gives some very valuable advice about Mother's Day gifts. It is full of funny gift ideas that you shoudn't give any mom on Mother's Day, unless she just happens to be salemander or spider!
How to Raise a Mom: Two siblings share their tips and tricks on how to raise a mom. An adorable story from a very interesting perspective. There will lots of giggles with this book! Perfect for sibling day, or Mother's Day!
The First Strawberries: A great Cherokee Indian story about how strawberries came to be. Perfect for May 20th, which just happens to be Pick Strawberries Day.
Escargot: Introduce your kids to escargot for it's special day on May 24th. This creative story about a snail will give your kids a reason to try new foods…. and no, it doesn't end with the cute little snail being eaten. You must read the story to find out just how it ends!
The Wall: Follow a young boy and his father as they visit the Vietnam Veteran's Memorial. This book is a great way to teach kids about the importance of Memorial Day.
There are several outdoorsy days in May! Yay for the great outdoors! To celebrate every single one of these events — from Love a Tree Day (May 16th) to Water a Flower Day (May 30th) — my book, 100 Backyard Activities That Are the Dirtiest, Coolest, Creepy-Crawliest Ever! has got you covered!
May is packed FULL of fun days! Let's get a jump start on this amazing month with some even more amazing books. Did your favorite books make our list? Did you find any new favorites? Share with us in the comments.
More Themed Book Lists You'll Love: