Great Books to Read with Your Kids in September
September brings back to school, or homeschool routines, the beginning of harvest, and some other fun days you might enjoy incorporating into reading time.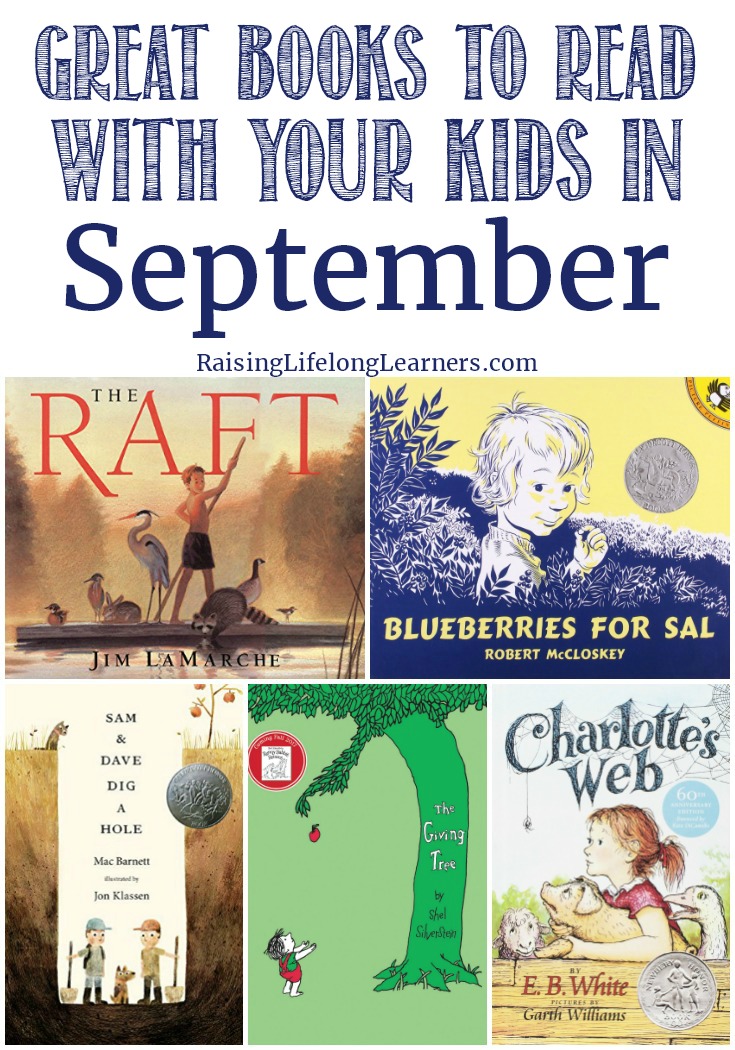 One of my favorite days this month is September 6th. Go ahead and take a guess at why, but you only get one…
It is Read a Book Day! That is why this list will focus on some of my all-time favorite children's books. From classics to newer titles, you will find a little bit of something for everyone!
Take a look, and let's get to reading these magnificent stories.
My All-Time Favorite Children's Books
The Giving Tree: This book gives a unique perspective on giving. When a giving tree gives all he can from the apples it grows to the shade it gives, to one very lucky little boy, the boy starts to ask the tree for more. The tree does come through with every request the boy gives, all the way down to his stump.
Blueberries for Sal: A young boy goes to Blueberry Hill to pick berries with his mom. When Sal wonders a little too far, he discovers a mama bear collecting food for her baby cubs.
Caps for Sale: When a salesman cannot sell the caps that are stacked upon his head, he settles down for a nap. When he wakes he discovers that his caps are now on the top of monkey's heads. An adorable tale that should be followed up with More Caps for Sale where there is even more monkeying around!
Oh, the Places You'll Go!: Take an adventure with this colorful Dr. Seuss book! Life takes us to so many different places. Talk about it with this book that opens up the conversation about the up's and downs of life.
Charlotte's Web: This story takes place on a farm. And on this farm lives a very special pig, a very smart and thoughtful spider, a growing girl, and many more interesting characters. I love this chapter book because it is a heartfelt story that should be shared with every child.
The Raft: During the summer a boy is planning on staying with his grandmother. He is prepared for one boring summer! Little does he know how appreciation of the great outdoors, brings happiness, a great adventure, and memories of the best summer.
The Little House: Follow this story of a little house, who is quite happy living in the country. But what happens when things start to change around him? Roads become highways, apartment buildings become skyscrapers. Will there still be a spot for the house to live happily ever after?
Sam & Dave Dig a Hole: Two eager boys get to work digging a hole. They are on a mission to find something wonderful. What do you think they will find? Their discovery leads them on an adventure your kiddos will not forget.
Back to School Children's Books
Here are some wonderful, real, and witty back-to-school books your kids will adore. These will help them jump right into the school year with a winning attitude!
Back to School, Weird Kids Rule!: When summer vacation starts to come to an end, the unexpected pops up. From a trip that is cut short to summer camp focused on school. Will anything end up going right before school starts! The perfect chapter book to read to your kids in September!
This School Year Will Be the BEST!: Every kid has different expectations for the school year. This book gives us a colorful look at what those include. By the end of the first day of school, it looks like everyone is going to have the best school year yet.
The Magic School Bus: Although these books are not focused on back to school, they do have a focus on how fun learning at school can be! From taking a trip to the land of dinosaurs, or discovering outer space, Ms Frizzle will make going back to school a blast.
A Funny Thing Happened on the Way to School…: A funny back to school book that should be on every bookshelf. This story follows a boy to school who keeps on coming across the strangest things. Like a blob and evil ninjas…. and don't forget about the giant monkey.
Use September to highlight your all-time favorite children's books for the entire month instead of just one day. It will make reading fun while preparing your kids for the coming school year.
What are your all-time favorite children's books? Feel free to add to our list by sending an email or leaving a voicemail message!
More Great Booklists