How to Help Your Kids Thrive When They're Stuck Inside
Maybe you're dealing with a prolonged illness, a weather mishap that canceled your plans, job transitions, car troubles, recovery of some type, or a good old-fashioned school break, but sometimes, somehow, you find yourself stuck at home for long periods of time. As much as the introverts may celebrate at first, the plot thickens when you add having intense, 2e, or differently-wired children into the mix, and suddenly your celebration of solitude becomes a whine-drenched prison where time slows down and snacks disappear. The kids are bickering, everyone's brains are melting, and misery of the most acute kind sets in.
You and your kids are stuck inside… so how will you all survive?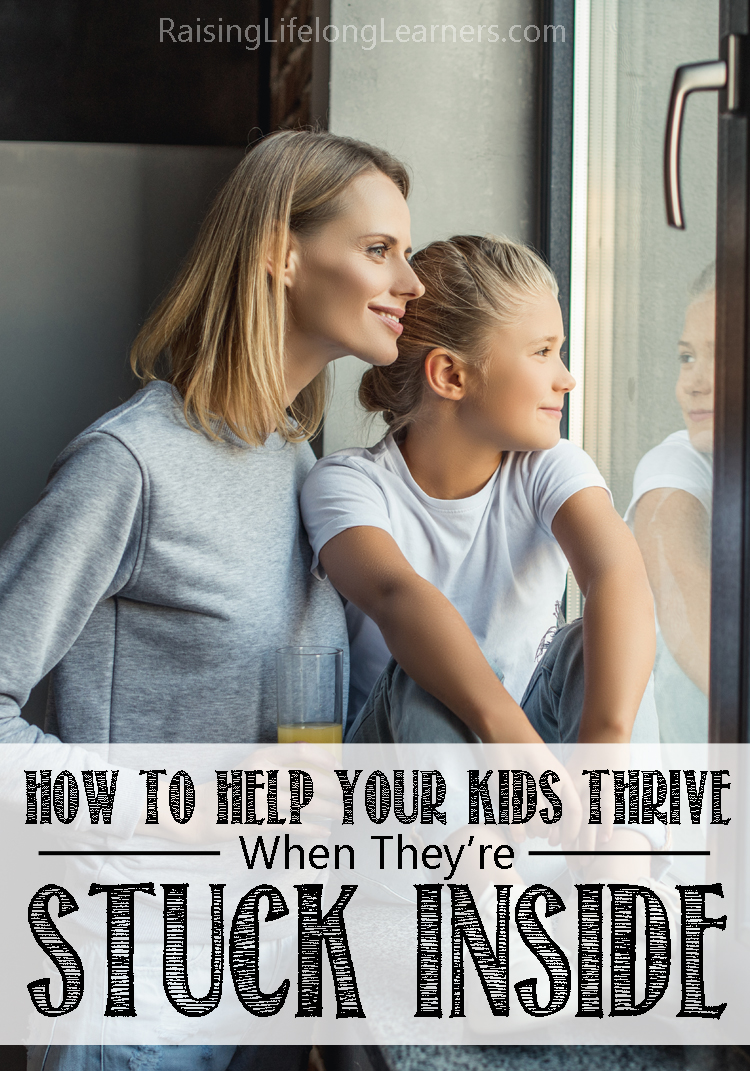 The first problem you're likely to encounter, from your kids, anyway, will be the age-old and succinct poem: "I'm bored." This isn't a new lyric, and it's not the first time you'll have heard it. But in situations where you find yourself stuck at home (or in a hotel room, or in a hospital room) for prolonged periods of time, this will become as loud and dependable as clock chimes. While I'm not someone who views my parental role as synonymous with entertainment director, it is important to have plenty of games and toys on hand to help keep wiggly, intense brains occupied. I tell my children often that no one ever died from boredom, but the peace is kept much longer when there is plenty on hand to choose from.
In addition to being boredom busters, games aren't just about occupying busy minds – many can actually teach your kids important concepts or help them grow in areas where they struggle. Check out some of these posts for great game ideas for your kids – and family! – to play at home:
Of course, being stuck at home you may not always have access to new games. Don't forget about classics like 20 Questions, Charades, Sticks, and I Spy… that require no materials at all! One of my kids' favorite pastimes when we're stuck somewhere is to pick a category – animals, food, city names – and come up with an answer that starts with the letter that the last letter ended on. It gets pretty hard pretty quick!
During a quarantine, extended vacation, recovery time, or extreme weather event, parents can begin to worry about what their child is learning, wondering if they'll lose momentum, if they'll fall behind, or if their brains will turn to mush altogether from too much tv and too many fruit snacks. Gifted kids, especially, crave challenge and stimulation. Rather than panicking, though, this is the perfect opportunity to change your thinking about what education can look like, to open your mind to new experiences and new mediums of learning. Rather than seeing learning as only being able to take place within the confines of four walls or curriculum workbooks, take this time to explore the various educational activities and opportunities around you:
Streaming services like Curiosity Stream
Subscription boxes, such as Brick Loot, Groovy Lab in a Box, and Wonder Crate
Learn something you normally wouldn't by taking American Sign Language or art classes
Watch YouTube videos on subjects that interest your kids – or even you!
Go old-fashioned and dive into encyclopedias to see what all you can learn
Examine maps and globes, plotting imaginary vacation routes
Use local bus or train maps and schedules to plan a trip around the city
Cook together and see how much learning really takes place in the kitchen!
If allowable, explore your backyard, walking trails, or patio for signs of nature
While you're outside, try out the activities in my book!
Write letters to grandparents, friends, even beloved grocery store cashiers – hearts will be touched and important communication grammar will be practiced
Dive deep into a single topic – try one of my many unit studies
Study your family tree and discuss genetics and traits that have been passed down
Take an online field trip
Of course, as parents of gifted, differently-wired, and 2e kids know, you can never have enough books on hand. Ever. If you're able to have access to a local library, then get used to wandering the aisles and paying late fees. For those who are truly stuck at home and don't have the ability to make the trip, many local libraries now offer the ability to check out eBooks! Reading is a wonderful way to pass the time, not just because it's a screen-free form of entertainment, but because it takes the mind to where the body cannot go. Families can enjoy read alouds together, listen to audiobooks while cleaning or exercising, or just disappear into their rooms for designated periods of time to read, quietly, alone, while stuck at home.
Check out these books that are perfect for quirky and gifted readers:
Some other things you can do to prepare (and survive) time stuck at home are:
Create a calm down space for when your quirky kids inevitably get overwhelmed
Listen to my podcast episodes!
Invest in your family dynamics by learning from Lynna Southerland's expertise on sibling rivalry
Nap, sleep, rest… with no fear of being late for anything
Spend a night staying up late with each of your children individually – talk about their hopes, their fears, their favorite movies, wherever the conversation goes.
Start the mornings off with strewing and see where the day – and their interest – leads
Build a living room fort
See how many games you can play – or even invent – using simple things like a deck of cards or a set of dominoes
Try out any of the numerous science experiments or activities available on my site!
Finally learn to sew, crochet, or fix the plumbing
Challenge yourself to reduce your carbon footprint and experiment with how many different ways you can reduce, reuse, or recycle items in your home
Write – and perform – plays, musicals, or puppet shows (and make the puppets for even more fun!)
Deep clean
There is no shortage of activities, books, and learning opportunities for quirky, gifted, and 2e kids who are stuck at home. Whatever the cause and however long the duration of your stay, try to see it as an unprecedented opportunity to build family bonds, make new memories, and expand the boundaries of what you consider to be educational. You may not be able to control being stuck at home, but you can certainly control what you do with your time together.
And may the odds be ever in your favor.